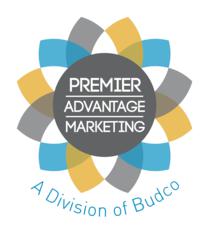 There is value proposition in changing the look and feel of your brand if it doesn't match in the market place what your product or service represents
Indianapolis, IN (PRWEB) January 27, 2012
Marla Boring, Marketing & Business Development Strategist attended the Indianapolis Chapter of the American Marketing Association January luncheon. Speakers at the luncheon were from Harrison College as well as Justin Wojtowicz from Williams Randall Marketing. The discussion from the speakers was on the re-branding of Harrison College formerly known as Indiana Business College.
Premier Advantage Marketing just went through the re-branding process back in September of 2011 changing only their logo and marketing strategy but not their name. There were many similarities between what Premier went through and the transition for Harrison College. Much like the speakers, Premier Advantage Marketing evaluates and makes necessary adjustments to the audience perception of the new brand. "There is value proposition in changing the look and feel of your brand if it doesn't match in the market place what your product or service represents," says Boring.
Premier Advantage Marketing received very favorable response to the new marketing strategy as they also launched their first mini-magazine, STAMPS, to their clients and prospects. Developing and creating a fun but informative piece that will be produced quarterly, is the next stage of their new marketing implementation.
The first issue was an overview of the direct mail industry with articles covering such topics as Millennial's, Customer Service, and Direct Mail Design. The focus of the next issue will be centered on Data and Data Management. "We hope that this gives our clients and prospects valuable and fun information about the direct mail industry," says Tom Emmerson, VP of Sales and Operations for Premier Advantage Marketing.
About Premier Advantage Marketing
Premier Advantage Marketing, a division of Budco, leads the way in managing and executing strategic direct mail marketing campaigns. With more than 30 years of experience in direct mail, they have a powerful understanding of the messages that impact consumers. The customer service, production and creative teams of professionals that make up Premier Advantage Marketing lead the way in managing and executing successful direct mail marketing campaigns. With dedication to implementation and attention to detail, projects become successes as they move from development to mailbox.
Premier Advantage Marketing clients get the resources of a big corporation with the fast turnaround time and one-on-one attention of a small business. Whether the goal is to sell more products, build stronger relationships, or feature new services, direct mail helps achieve success. Learn more about direct mail and marketing strategies at Premier's direct marketing blog at directmailmarketing101.com.
# # #