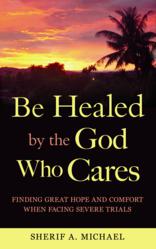 The Difference Between Real Morality and Nazi Morality
San Luis Obispo, California (PRWEB) January 28, 2012
According to author Sherif Michael in his recently released book,Be Healed By The God Who Cares, Jesus Christ healed and can heal today. Michael says, "In today's secular society before asking if God can heal, we must first ask if God even exists and what's the proof."
"A powerful proof for the existence of a supernatural, super intelligent God," states Michael, "is a knowledge of the Moral Law. People around the world are offended when their rights are violated. When someone steals one's wallet in Russia, Brazil, France or the United States, we are offended. Where does this basic sense of one's rights having been violated come from? "
Sherif Michael in Be Healed by the God Who Cares states, "We wouldn't call a room dark unless we knew what light was. A man does not call a line crooked unless he has some idea of a straight line. An atheist can condemn genocide but does not know where the profound sense of moral repulsion originates from." Michael maintains, "It comes from our knowledge of an absolute standard imprinted in our minds by the controlling power of God. There can't be a Moral Law without a Moral Law Giver!" This is just one of the proofs presented in Be Healed by the God Who Cares pointing to the existence of a supernatural God.
"The next question we should ask is if God exists who is God. Christ fulfilled over three hundred Old Testament prophecies made hundreds of years before his time. This gives us more than a clue that the Source of the information has, for some reason, zeroed in on Christ. When we examine the historically documented miracles Christ did, miracles which have never been duplicated (multiplying bread, stilling storms, walking on water, raising the dead, and healing the sick), we see evidence that Christ's claims that he is God Incarnate are not whimsical myth. Such miracles attest only to the power of God."
Michael maintains that a belief in God and Christ is logical and a source of great hope. He summarizes his short book Be Healed By The God Who Cares as follows:
"If you face serious physical illness and your body is falling apart, you need to turn to the Source of Life and Healing. God can heal, heals daily, and may heal you this moment. God should not be limited nor minimized by our inability to conceive who He is. Quoting Jonathan Edwards, the Triune God upholds the universe instant by instant. God defines physical reality. Physical healing is for the present, but spiritual healing is the greater gift, as it is forever.
"Be Healed By The God Who Cares covers both spiritual and physical healing. By believing in God's Son, we gain eternal life. Faith is a gift from God, but Jesus Christ used his fulfillment of Old Testament prophecies and his miracles to evidence his claims that He and the Father are One, that before Abraham was '˜I AM,' that '˜He who has seen me has seen the Father.'
"To develop faith, this booklet examines proofs: fulfilled prophecies, Christ's resurrection, the moral argument for the existence of God, and present day physical healing. For those who are sick and can't handle extensive reading, Be Healed By The God Who Cares is a short and easy read."
REVIEWS:
" A very readable, cool and clear introduction on the most vital subject. In this fine piece of work Sherif investigates the meaning and the reason for believing the Christian faith" "" Dr. Steve Kumar, Author of Christianity for The Skeptics, was president of the New Zealand Evangelical Apologetics Society.
"If you are seeking a book that will give ample amounts of inspiration and hope combined with a dash of apologetics, 'Be Healed by the God Who Cares' does just that, and more. Biblical wisdom is presented alongside classic philosophers and modern thinkers in a clear readable guide to finding spiritual solace and miraculous intervention." – James Hirsen, J.D., New York Times Best Selling Author. Hirsen teaches law at both Trinity Law School and Biola University in Southern California. He is admitted to practice in the California and Washington, D.C. Bar Associations as well as the U.S. Court of International Trade.
Sherif A. Michael lives in California. He holds a BA in political science and an MBA in international finance from UCLA. He also holds a Juris Doctor in Law from Western State University. Sherif has lectured in Christian apologetics and comparative religion at university campuses in nearly thirty countries for such organizations as Student Life, Campus Crusade, Agape France, and an array of main line and nondenominational Christian churches. After six years in the New Age practicing mantra and hatha yoga, Sherif committed his life to Christ and aside from lecturing, has been involved in banking, commercial brokerage, and real estate development. He is married to a Canadian-American wife with two young adult boys. Sherif authored the popular website http://www.earthharvest.org, which is translated in 12 languages, a website which has100,000 hits a month together with its sister website http://www.existedios.com.
Paperback: 77 pages
Publisher: Mill City Press Inc.
ISBN 978-1-936780-40-2
###