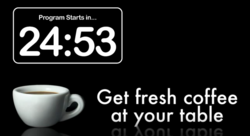 ALPHARETTA, Ga. (PRWEB) January 31, 2012
Many business conferences are promoted the same way: A deluge of HTML emails, some phone calls to drive registration, a flyer in the mail cubby. And then at the actual event, there is some signage and a token stage setup. For harried businesspeople with limited time and budgets, it's all pretty boring.
From years of receiving same-old conference marketing materials, and attending some underwhelming events, GM Voices, the world's largest producer of professionally-recorded voice for automated technologies, has set out to help organizations do what so many have failed to do—deliver a conference experience that's unique, fun, and engaging.
Offering a comprehensive suite of conference promotion and business storytelling services—theme development, professionally-narrated multimedia, business video and animation—GM Voices ensures that the words "RSVP Today" actually inspire action. And an innovative mix of on-site solutions engage attendees in new and exciting ways.
Targeted voice- and video-based services include:

"Businesses are using multimedia in a wide variety of business scenarios, but too few events are applying these tools to provide a memorable experience that will keep exhibitors and attendees coming back," said Marcus Graham, CEO of GM Voices. "Using voice, video and some creativity, GM Voices has all the resources to set your event apart from the surplus of undifferentiated trade shows, and all for a reasonable price."
For a full breakdown of event promotion services, download GM Voices' quick-reference guide.
About GM Voices
Since 1985, GM Voices, Inc. has emerged as the global leader in professionally‐recorded voice, language localization, persona development and Voice Branding solutions for Fortune 1000 corporations worldwide. Dozens of voice actors record in their studios each week, providing clients a consistent voice for any application. More than 100 languages and dialects are offered. GM Voices invented the term and concept of Voice Branding, a single‐voice customer experience consistent with a company's brand image. For more information, visit http://www.gmvoices.com.
###