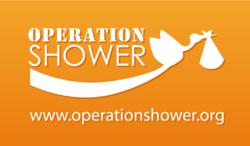 Pacific Palisades, CA (PRWEB) January 31, 2012
Emmy Award-winning actress Sarah Michelle Gellar will help 40 military moms-to-be experience what many expectant women may take for granted – a baby shower. The moms, whose spouses are deployed members of Naval Base Ventura County, will be honored during an Operation Shower group baby shower hosted by Gellar on Wednesday, Feb. 15, from 10 a.m. to noon in the Birdies for the Brave® Patriots' Outpost presented by the Annenberg Foundation located on the 10th green at Riviera Country Club during the Northern Trust Open.
"For military wives who are expecting a baby and whose spouses are deployed or soon to be deployed, the impending arrival of a child can be both exciting and stressful," said Operation Shower Founder and Chief Shower Officer LeAnn Morrissey. "Operation Shower was created specifically because typically military moms are the ones who hold it all together at home. Without their spouses by their side, deployed to another part of the world, these moms deserve our support, our thanks, our love and an opportunity to celebrate together."
The "Star Is Born"-themed event is being presented by Carousel Designs (http://www.babybedding.com) and sponsored by Pottery Barn Kids, with support from Carl's Jr. – which will provide lunch. In addition to lunch, each of the honored moms-to-be will receive Operation Shower's signature "Shower In A Box" – a gift of high-quality products for mothers and babies that have been generously donated by companies including Carousel Designs, Pottery Barn Kids, and others.
Special guests at the event will include Holly Finchem, mother of three and wife of PGA TOUR Commissioner Tim Finchem; NBA legend and Northern Trust Open Executive Director Jerry West; members of the PGA TOUR Wives Association; and recording artist Michelle Penn, who will perform during the shower. Downloads of Penn's song honoring military members and their families, "Welcome Me Home," benefit the Fisher House Foundation.
"We are thrilled to join with Operation Shower and Birdies for the Brave to show our appreciation to these courageous military moms-to-be, who make innumerable sacrifices that enable their loved ones to so selflessly serve our country and defend our freedom," said Carousel Designs President and former U.S. Army Officer Allan Sicat. "Their service and sacrifice deserve to be recognized just as much as those on the front lines, and we are delighted to do that through this special shower."
Janet Hayes, president of Pottery Barn Kids, echoed those sentiments, saying, "We feel privileged to have the opportunity to give back in such a meaningful way to these courageous women, whose innumerable sacrifices may go unnoticed. This is just a small way we can express our gratitude and we are truly honored to join Operation Shower in its mission to celebrate and honor these women and their families."
Operation Shower (http://www.operationshower.org) is a non-profit organization dedicated to celebrating and honoring military families by providing joyful baby showers for military moms-to-be to ease the burden of deployment, or in cases where spouses are seriously injured. Since the organization's inception in 2007, Operation Shower has showered more than 600 military moms from the Army, Navy, Air Force, Marines and National Guard on military bases, during PGA TOUR tournaments, and at other locations.
Operation Shower is supported by Birdies for the Brave, a national military outreach initiative proudly supported by the PGA TOUR designed to show support and appreciation to the courageous men and women of our U.S. Armed Forces and their families. Birdies for the Brave was originally created in 2005 by PGA TOUR player Phil Mickelson and his wife, Amy, to support combat-injured troops. In 2006, the PGA TOUR adopted Birdies for the Brave and expanded the program to include a variety of military outreach efforts in support of wounded warriors and military families. For more information, visit http://www.birdiesforthebrave.org.
The Operation Shower event is just one of many military and community outreach activities that will take place during the Northern Trust Open, which will be held February 14-19 at Riviera Country Club (1250 Capri Drive, Pacific Palisades.) On Tuesday, February 14, from 3-5 pm, Birdies for the Brave and the Northern Trust Open will host a veterans' appreciation reception at the West Los Angeles Fisher House on the grounds of the VA Greater Los Angeles, featuring dinner compliments of Chick-fil-A and a performance by Michelle Penn. The event is open to all veterans and military members.
"The Northern Trust Open has a long history of supporting charities throughout the greater Los Angeles area, and kicking off the week by celebrating the sacrifices of local military moms-to-be and their families is the perfect way to honor the community and the spirit of the tournament," said Northern Trust Open General Manager Mike Bone.
For tickets and information on the Northern Trust Open, visit http://www.northerntrustopen.com.
About Carousel Designs
Georgia-based Carousel Designs, a contemporary and trend setting leader in the baby bedding industry was founded in 1988. For more than 23 years, Carousel Designs has manufactured high quality baby bedding, toddler, twin and full/queen size bedding and nursery décor. Carousel Designs is the only baby bedding company that allows parents to design and create their own virtual nursery online with their Nursery Designer®, a unique, interactive design tool. The company also offers more than 100 pre-designed ready to ship crib bedding collections and more than 300 fabrics to choose from in a range of versatile styles. For more information visit http://www.babybedding.com.
About the Northern Trust Open
The Northern Trust Open is one of the longest-running tournaments on the PGA TOUR. Debuting in 1926 at Los Angeles Country Club, the event had been staged at various courses throughout the Los Angeles area before permanently settling at Riviera Country Club in 1973. Outside of the major championships, the Northern Trust Open is the fourth-oldest event on TOUR, trailing only the BMW Championship, the Canadian Open and the Valero Texas Open. In 2011, the Northern Trust Open generated $1.6 million for Los Angeles charities, bringing the total charitable contribution to $53.5 million since the event's inception. It is estimated that the Northern Trust Open helps 15,000 Los Angeles residents each year, which includes 5,000 kids who are beneficiaries of its charitable proceeds as distributed primarily through the Los Angeles Junior Chamber of Commerce Charity Foundation.
###