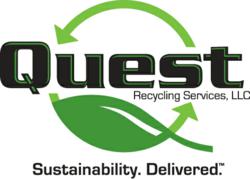 The leader in food waste recycling
Frisco, TX (PRWEB) January 30, 2012
Robin Sweere, Sourcing and Consulting Manager at Quest Recycling Services, LLC, was a panel speaker at the 2012 US Composting Council Conference, held in Austin, TX on January 17th to 20th, 2012. Ms. Sweere introduced Quest's "10 Steps" process, which leads service companies to optimize the food waste recycling service and reduce operating costs.
Reflecting on the US Composting Council Conference event, Ms. Sweere observed, "While there is a lot of talk about food recycling, Quest is taking action to actively remove food from the landfill each day in every market nationwide. While many of the lessons we learned in developing the first nationwide infrastructure could be viewed as a competitive advantage, Quest feels that sharing those lessons with others (even our competitors) is critical for a healthy infrastructure to emerge. The food waste recycling problem is a challenge we must work together to address. Quest was happy to support US Composting Council Conference related to food waste recycling."
Quest Recycling is at the forefront of waste minimization, food waste recycling, and waste-to-energy movements. Working with clients in all 50 states and Canada, Quest is directly responsible for the diversion of over 1 billion pounds of waste from landfill in 2010.
"With all the focus on waste in Texas in 2012, Austin was the perfect location for the USCC to stop talking waste, and instead talk compost," Sweere said. " The USCC has been a true leader for the composting industry, focusing on ways to grow the organics recycling infrastructure and share best practices. Quest was proud to share the lessons learned from diverting organics over the last two years and enable others to divert more food from the landfill."
###