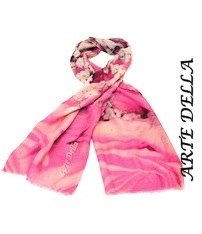 Pamper Yourself In Style
(PRWEB) January 29, 2012
HOP Cashmere, the New York area based brand of premium scarves and pashminas is ready to launch a new designer collection of digitally printed scarves – 'Arte Della Collection'. A sneak peek at this new fall 2012 scarves collection is available now on the Arte Della website . These scarves have been designed in HOP Cashmere's New York area based design house and digitally printed on fine Cashmere and Silk/Wool blends. Arte Della is inspired by medieval Europe fashion and takes after the famous Artie (or guilds) of Florence formed during the renaissance era in Europe. The Arte Della Lana which means guild of fine wool and Arte Della Seta that stands for guild of fine silk were the two most famous Artie in Florence that traded in these fabrics. The Arte Della collection of HOP Cashmere offers themed designs in scarves that are digitally re-mastered and printed on fine fabrics.
This collection will be offered to customers via the selected resellers throughout USA, Europe, Middle East Asia and Australia. To see the sneak preview of this collection, readers can visit the newly launched Arte Della website.
The selected themes for fall 2012 consist of Surrealism, Feline Fusion, Geo Art Theme and Flora Lifestyle. HOP Cashmere designers have blended medieval art with modern concepts and created these fine scarf designs that are attractive and elegant.
HOP Cashmere brand continues to grow in popularity and now offers two distinct varieties of scarves – the traditional pashmina collection - Home Of Pashmina and the new designer collection – Arte Della. HOP and will soon be launching more varieties of Designer Pashminas and Scarves so stay tuned for more such announcements in 2012 and meanwhile - "Pamper Yourself In Style".
About HOP Cashmere
HOP Cashmere is a New York area based Cashmere Pashmina Design/Import House with online presence as Home Of Pashmina and Arte Della and its products are available in various boutiques in USA . Anu C – The owner of HOP Cashmere brand and President of Home Of Pashmina has many years of experience as merchandiser in a apparel manufacture and export company. Anu has also appeared in New York Area magazines as a upcoming women entrepreneur and a Pashmina lover.
For more information about HOP Cashmere and Arte Della or to order a press kit, please contact:
Anu Chandwani
Telephone: 800-757-2297
Email: ac(at)homeofpashmina(dot)com
Online: http://www.HOPCashmere.com and http://www.ArteDella.com
###