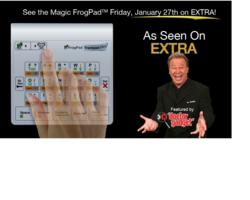 Now is the time to go One-Handed!"-Dr. Gadget
Hollywood, CA (PRWEB) January 30, 2012
Dr. Gadget's segment on Extra focused on the new Magic FrogPad, which utilizes software and removable clings, to transform the Apple© Magic Trackpad into a switchable keyboard and touchpad. (here is the video http://tinyurl.com/7l7hnyw ) The product is aimed at Mac users worldwide. For PC users, buzz surrounds the rumored features and sleek design of the FrogPad2, to be released late this spring.
Computer-human interface guru Linda Marroquin related that "…the multi-touch, multi-device world of digital communications is driving the push for a one-handed keyboard. This fresh approach to data entry is in demand by mobile and one-handed users, like our wounded veterans, first responders, and the manually impaired, whom all want to participate fully in today's hi-tech life.
"Multi-touch surfaces, keyboards, joysticks, touchscreens, mice, trackpads, control panels, remotes, smartphones, electronic readers/pads, game controls, and other data entry devices are entering our lives everywhere. Simultaneous use of these new interface devices, one hand freedom for everyone, and ergonomic flexibility, all point to FrogPad."
About FrogPad Inc.
FrogPad Inc., based in Houston, Texas, is an innovator in one handed left handed and right handed data entry methods for mobile computing and multi-touch applications. It is a private company delivering its products through global partners. This document may contain forward-looking statements, relating to the company's future, based on FrogPad's projections. These statements are not guarantees of future performance and involve risks and uncertainties that are difficult to predict, and/or are beyond FrogPad's control.
Apple, the Apple logo, Mac, Mac OS and Macintosh are trademarks of Apple.
FrogPad is the trademark of FrogPad, Inc. in the United States and other countries. Other product, service, and company names may be trademarks or service marks of others mentioned.
Contact us:
FrogPad, Inc.
Linda Marroquin
Houston, Texas
713 960 9611
###