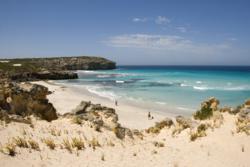 The southern region of Australia is truly unmatched in its beauty and provides varying and spectacular experiences.
Bellevue, Wash. (PRWEB) January 30, 2012
For Australia vacations from Tasmania walking tours to wine tasting, head to the southern tip of an Australia map to find out there's more to Australia than kangaroos & koalas.
Down Under Answers (http://www.duatravel.com), in partnership with Qantas, and the tourism authorities of Australia, Victoria, South Australia, Tasmania, offers new Vacations to Australia with Cheap Flights, Tours & Hotels.
These Australia vacation deals start at the remarkably low price of just $2,299 per person (including airfare and accommodation & airline taxes, based on double-occupancy) and are making the southern states of Australia more desirable than ever before.
According to Kirk Demeter, President of Down Under Answers, "The southern region of Australia is truly unmatched in its beauty and provides varying and spectacular experiences."
Mr. Demeter adds that this destination is perfect for a wide range of travelers including repeat vacationers who want to experience another side of Australia travel; vacationers who love to participate in adventure activities; price-conscious families who are looking for the best value for their travel dollar; and the upscale market who seeks touring via private aircraft, five-star hotel accommodations.
Featured Australia Tour Packages:
Melbourne, Hobart, Adelaide -12-night land and air-inclusive vacation from just $2,399
Explore Melbourne, in Victoria, a cultural melting pot known for international sporting events and the award-winning restaurants and cafés. Melbourne accommodation included. Continue south to historic Hobart, Tasmania, Australia's smallest capital city to experience 19th century warehouses-turned-restaurants in Salamanca Place, cafés, galleries and art studios. Hobart is the ideal city to shop for locally-made products or enjoy al fresco dining and boasts the cleanest air on Earth. Hobart hotels included. Next travel is to Adelaide in South Australia, an elegant city that has preserved its colonial heritage. Surrounded by parklands and historic buildings, Adelaide is also a dream come true for wine tasting due to its close proximity to some of Australia's most renowned wine regions, including Barossa. Adelaide accommodation included.
Melbourne, Hobart, Adelaide, Cairns - 12-day package from $2,629
Enjoy all the best of southern Australia and finish you vacation with a trip to the colorful playground of the Great Barrier Reef. From Melbourne travel north to Cairns, the gateway to the Great Barrier Reef and the World Heritage-listed Daintree National Park. The majestic coral structures that make up the Great Barrier Reef extend over 930 miles and provide superb recreational activities such as snorkeling, diving, swimming, semi-submersibles, coral viewing and fishing, and offer a unique environment for scientific research.
Short Breaks (from $449 -$559)

Down Under Answers offers three-day land-only excursions experiences to Melbourne,
Adelaide or Hobart.
Special Interest Vacations (from $1,029- $1,599)

Cradle Mountain Huts Guided 7-day walk though stunning Tasmanian scenery
5-night "Discover Tasmania" 2-day "Kangaroo Island in Style"
"Australia Fur and Feathers" is a two-night wildlife tour from Melbourne.
Each Australia tour packages can be purchased as-is, or the travel experts at Down Under Answers can help customize a vacation.
For all the latest packages and current pricing from Down Under Answers, click here.
Australia vacations with Down Under Answers can be booked by calling toll-free at (866) 792-5458 or visiting http://www.duatravel.com.
Prices are quoted in U.S. Dollars, and are based on per person, twin share. Prices are subject to currency fluctuations and seasonal surcharges. Advertised priced reflects lowest season pricing. Add-on fares available from other U.S. cities. Seats/Rooms are limited and subject to availability at time of booking. A higher class of service may be offered as an alternative. U.S./foreign taxes/fees, including September 11th security fee, are included for all air inclusive vacations. Amendment fees and cancellation penalties apply.
About Down Under Answers
Down Under Answers, which will celebrate its 20th anniversary in 2012, is the recognized industry leader in vacation packages to Australia, New Zealand, Fiji, Tahiti and the Cook Islands,. The Bellevue, Washington-based tour operator offers a wide variety of travel package options ranging from escorted tours to self-drive vacations, adventure travel, island escapes, groups and special interest travel, as well as customized independent arrangements. The company has repeatedly been voted the "Best Travel Wholesaler" by Tourism Australia's Aussie Specialists and Tourism New Zealand's Kiwi Specialists as well as "Best Travel Wholesaler" by Australian Supplier Partners. For additional information, visit Down Under Answers online or call 800-889-1464.
Twitter: @downunderanswer
Facebook: facebook.com/downunderanswers
Flickr: http://www.flickr.com/photos/downunderanswers/
YouTube: http://www.youtube.com/user/DownunderAnswers2
###