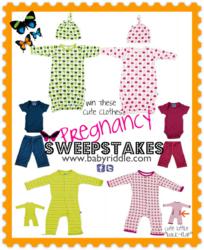 Baby Riddle added to the surprise by sending quality and oh so cuddly clothes. The one piece outfits made of bamboo were wonderfully soft and so cuddly." Jen Mahoskey
Buffalo (PRWEB) January 31, 2012
Baby Riddle announces the Pregnancy Sweepstakes because they understand a new mothers desire. Every pregnant woman dreams of dressing their little "bundle of joy" in something cute. Baby Riddle has an eye for "cute" and loves to adorn their customers (newborns) in really adorable clothing. They have found that this creates great happiness for the new mother-to-be.
These clothes are extremely soft and the patterns are whimsical. The company has found that their customers have fallen in love with the Kicky Pants brand. Celebrities have too, like Sarah Jessica Parker, Alyson Hannigan, and Halle Berry.
One of Baby Riddle's customers, Jen Mahoskey, shared her experience about the clothes from Baby Riddle saying, "It was so much fun being surprised with the sex of our baby. Instead of stressing out about what kind of clothes to buy, Baby Riddle added to the surprise by sending quality and oh so cuddly clothes. The one piece outfits made of bamboo were wonderfully soft and so cuddly."
The sweepstakes are running through April 16, 2012. Whoever the lucky winner is will have the opportunity to have the box sent on the date they choose. A fall and winter pregnancy sweepstakes will be announced this summer. Any entrants that are due later this year will also be entered into the later sweepstakes.
Pregnant Mothers who are keeping their baby's gender a surprise will need to fill out a simple Ultrasound Form, found on the company website, for their 16-20 week ultrasound and have their results sent to Baby Riddle. This allows for their "surprise" box of either boy or girl clothes to arrive right at their due date.
Participants can enter the premium sweepstakes online at the company's website: http://babyriddle.com or http://www.facebook.com/babyriddle.store. No purchase is necessary to enter the sweepstakes.
If the participant does not know the gender, the company will send a box of boy or girl clothes to the winner. Baby Riddle has a great solution for mothers who are keeping their baby's gender a surprise. A pregnant mother has the opportunity to avoid neutral baby clothes and have gender-colored clothing right at their due date. To learn more about the service, visit their website to find out the simple solution.
The contest will end soon and the company is urging any desired participants to enter now.
Baby Riddle was founded by a Registered Nurse and an entrepreneur. The nationwide online company is based in the United States. The company carries extremely cute baby clothes and also has a great service for women who are keeping their baby's gender a surprise. Baby Riddle created a solution to keep the baby's gender a surprise: Have an unbiased third party send the gender specific clothes right at the baby's due date.
Find out more by visiting Baby Riddle:
Phone: 866.927.2524| http://babyriddle.com | Facebook http://www.facebook.com/babyriddle.store | Twitter http://www.twitter.com/baby_riddle
###