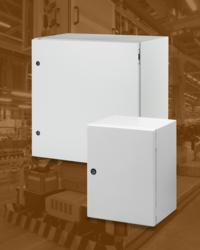 "The Hoffman Wall-Mount Enclosure family now features IEC IP66 ratings and design features, as well as UL Type 12/4 certification, meeting the needs of diverse applications—even in demanding environments."
Anoka, MN (PRWEB) January 30, 2012
Pentair Technical Products announces a new, fully featured line of Hoffman Wall-Mount Enclosures. The small and medium sized offerings are available in a full range of popular sizes and offer one of the highest customer values of any enclosure in the Mexico market. These wall-mount enclosures are specifically designed to meet customer needs and improve both service and availability to this market.
Enclosures are manufactured in Pentair's 30,000 square meter facility in Reynosa, Mexico, and stocked in their Reynosa warehouse and distributor locations throughout Mexico, offering customers immediately availability. Since they are made locally, these new products can also be manufactured with customer-specified modifications—including size changes, holes and cutouts, paint color changes and installed accessories—and still offered with short lead times. These versatile enclosures also provide IEC IP66 and UL Type 12/4 protection ratings for both domestic use or on exported equipment. This combination of high availability, local modification capability, and IEC and UL protection ratings makes the wall-mount offering one of the highest customer values in the industry.
Small hinge cover enclosures are available in 20 metric sizes in heights from 150 to 500 mm, widths of 150 to 300 mm and depths from 80 to 200 mm. These mild steel enclosures are right-hand hinged. Enclosures feature hidden hinges, flush quarter-turn latches with 3-mm double bit insert, bonding provision on the door, a galvanized internal panel and a light-gray RAL 7035 textured finish.
The medium size single-door offering includes 22 metric sizes with height options from 300 to 1200 mm, widths of 200 to 800 mm and depths from 150 to 400 mm. Also featuring mild-steel construction, medium enclosures provide rolled, right-hand hinges on the door, flush quarter-turn latches with 3-mm double bit insert, bonding provision on the door, a galvanized internal panel, a large bottom gland plate and a light-gray RAL 7035 textured finish.
"The Hoffman Wall-Mount Enclosure family now features IEC IP66 ratings and design features, as well as UL Type 12/4 certification, meeting the needs of diverse applications—even in demanding environments," said Pablo Howland, Market Manager Hoffman Enclosures Mexico. "This new platform of enclosures is built and stocked in Mexico to meet the needs of this marketplace more than any other enclosure manufacturer with regard to availability, quality and now service, including factory-made modifications."
Applications: Hoffman Wall-Mount Enclosures are designed to house and protect electrical and electronic components in industrial environments, including:
-Automotive
-Water and wastewater
-Petroleum and chemical
-Solar energy
-Packaging
-Material handling
-Tool and machine
-Wind
About Pentair Technical Products
Pentair Technical Products, a Pentair global business unit, is a leading provider of worldwide product and service solutions for enclosing, protecting and cooling electrical and electronic systems. Its industry-leading brands—Hoffman™, Schroff™ and McLean™ Cooling Technology—provide a broad variety of standard, modified and engineered solutions to the commercial, communications, energy, general electronics, industrial, infrastructure, medical, and security and defense markets.
For more information, visit http://www.hoffmanonline.com or contact Pentair Technical Products at 2100 Hoffman Way, Anoka, MN 55303.
About Pentair, Inc.
Pentair (http://www.pentair.com) is a global diversified industrial company headquartered in Minneapolis, Minnesota. Its Water Group is a global leader in providing innovative products and systems used worldwide in the movement, treatment, storage and enjoyment of water. Pentair's Technical Products Group is a leader in the global enclosures and thermal management markets, designing and manufacturing thermal management products and standard, modified, and custom enclosures that protect sensitive electronics and the people that use them. With 2010 revenues of $3.0 billion, Pentair employs over 15,000 people worldwide.
Media Contact: Jaclyn Larson (Next Communications). Phone: 952-934-8220. Email: jaclynl(at)nextcom(dot)com.
###