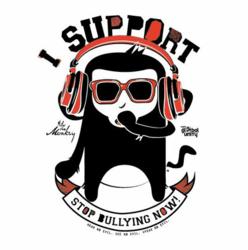 Let us use our collectives voices to STOP BULLYING NOW
Hollywood, California (PRWEB) January 27, 2012
The celebrities at the 2012 Golden Globes Gift Lounge hosted by GBK were visited by very special guest: Miles The Monkey - the official mascot for the Stop Bullying Now campaign entitled "Hear No Evil, See No Evil, Speak No Evil." The campaign is sponsored by Raffles Entertainment. The 2012 Golden Globes Gift Lounge was held at the posh L'Ermitage Hotel on January 13 & 14th, 2012 in Hollywood, California.
At the 2012 Golden Globes Gift Lounge, many celebrities took interest in the monkey and the message. Celebrities such as Oscar winner and "The Borgias" star Jeremy Irons, "Glee" star Dot-Marie Jones, Booboo Stewart from the "Twilight" movie series, and "The Client List" star Jennifer Love-Hewitt took a moment to learn more about the Stop Bullying Now campaign and to meet Miles the Monkey.
"Miles the Monkey is our shining new symbol of anti-bullying! The celebrities at the GBK gift suite for the Golden Globes were quite enchanted with our new mascot!" States Raffles van Exel, celebrity consultant and founder of the Stop Bullying Now campaign. "We, as celebrities have a unique opportunity to show children and teenagers that WE DO CARE, and that THEY have the POWER to stand up for themselves. Children reach out and identify with celebrities like Lady GaGa because celebrities are often the voice of the voiceless. Let us use our collectives voices to STOP BULLYING NOW."
About The Stop Bullying Now Campaign:
The STOP BULLYING NOW Campaign entitled "Hear No Evil, See No Evil, Speak No Evil" by Artist for Global Unity is an initiative that will reach parents and children, while providing tools needed to successfully cope with bullying.
Miles the Monkey will be traveling across the globe with a message of acceptance, tolerance and will be taking a stand against bullying.
Artist for Global Unity is an organization that supports various causes around the globe. Spear-headed by celebrity consultant to the stars Raffles van Exel, this effort is in coordination with celebrities, corporations, and skin care/beauty colleagues from across the world. Participants include Christine Heathman, CEO/Founder of GlyMed Plus, Soul/Funk music icon Chaka Khan, movie and television star Quinton Aaron, CEO/Founder of GBK Productions Gavin Keilly, CEO/Founder of Lamas Beauty Peter Lamas, pop singer/songwriter Tyler Wade, CEO/Founder of Raffles Entertainment Raffles van Exel, Marion P Candles, Denali Ink, I AM RUTH! Foundation, AmVic Entertainment and Baby Girl Entertainment, Paradox Entertainment, IDP Entertainment Group, and Photographer Christian Rios. To find out more about Miles The Monkey and the Stop Bullying Now Campaign, please go to http://www.milesthemonkey.com
About Raffles van Exel:
Raffles van Exel, CEO of Raffles Entertainment, LLC, is a highly respected entertainment consultant having guided some of the world's most acclaimed executives and celebrities: Actor Quinton Aaron from the smash hit The Blind Side with Sandra Bullock, Soul-Funk icon Chaka Khan, Peter Lamas CEO and founder of peterlamas.com, "Skin Diva" Christine Heathman of glymedplus.com, the late King of Pop Michael Jackson, Whitney Houston, Patti LaBelle, Lance Bass (Founding member of iconic pop group, N'Sync), Flavor Flav of the iconic rap group Public Enemy and of the "Flavor of Love" fame, George Benson, and the late Ray Charles. Raffles van Exel has produced for The Queen of Salsa - the late and great Celia Cruz, funk pioneer George Clinton, Sisqo, Nick Cannon, Howie Dorough (Founding member of Grammy nominated group, The Backstreet Boys), rap icon and actor Ice-T, and a host of other artists.
Source: Raffles Entertainment
# # #