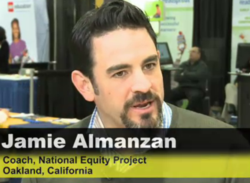 The series of interviews we've conducted with Jamie are powerful," says Linton, "and absolutely indispensible for the educator struggling to make sure that all students, no matter what their backgrounds, succeed within the educational system
Salt Lake City, UT (PRWEB) January 30, 2012
School Improvement Network announces the newest offering in its ever-growing library of online professional development videos for teachers. Join national author Curtis Linton as he interviews Jamie Almanzan, a coach with the non-profit National Equity Project, and one of the foremost experts on equity in K-12 schools. In a series of four online PD videos, Jamie shares what he has learned after years of working with principals and other educational leaders on the issue of racial and cultural equity.
"The series of interviews we've conducted with Jamie are powerful," says Linton, "and absolutely indispensible for the educator struggling to make sure that all students, no matter what their backgrounds, succeed within the educational system. Jamie has helped turned schools all over the country around, and now he's sharing the strategies that have made him successful with us."
"As opposed to just delivering some equity-based content, or saying these are some books you might want to think about reading, this is more about equity in real time," says Almanzan. "This is showing you what it looks like to actually take all the steps that are necessary to get all students succeeding at a school site."
"Some of the traditional methods of establishing equity are failing," adds Linton. "These online professional development videos will provide teachers and administrators with new approaches to solving old problems. We move beyond just marking all the requisites off of our checklists: yes we've accomplished our multicultural training, etc. We discuss proactive approaches that really work."
To view Alamanzan's interview for free, and to get access to the largest library of online PD videos available, simply sign up for a free 30-day trial of PD 360, School Improvement Network's premiere online professional development platform. Go to http://www.schoolimprovement.com and click on the "free 30-day trial" button.
About School Improvement Network
Founded in 1991 by teachers, the School Improvement Network provides comprehensive, research-based professional development anytime, anywhere. As the home of The Video Journal of Education, PD 360, Observation 360, the Learning 360 Framework, Equity 360, and Common Core 360, School Improvement Network resources focus on the most relevant topics, feature the top experts, and show educators how to put theory into practice. School Improvement Network works with thousands of schools and districts in every state and around the world and has visited over 3,500 classrooms to document best practices in action. Learn more at http://www.schoolimprovement.com.
About National Equity Project
The National Equity Project believes that every child has the right to a quality education, and they coach people to become the leaders who make good on that promise. They provide comprehensive services to build culture, conditions, and competencies for excellence and equity in districts, schools, classrooms, nonprofits, and communities. They currently work in over a dozen cities and districts, and continuously seek new partners who are committed to achieving equity in education. They offer deep, authentic, and supportive partnership, meeting clients where they are with their current needs through a range of coaching and consulting services, including district transformation and redesign, school transformation and redesign, and organizational development and executive/team coaching services for nonprofit agencies committed to equity, access, and service. Learn more at http://www.nationalequityproject.org.
About PD 360 • Practical, Scalable, Measurable
PD 360 is the multi-award winning, leading online, on-demand professional learning resource for schools and districts. With 1,800 videos on 117 topics from 120 experts, PD 360 has the largest online community of educators, with over 822,000 subscribers. The innovative PD 360 videos are unique and class-leading because of the quality of production, and each is research-based with classroom examples of best practices. The videos are also relatively short in nature (approximately 6-12 minutes in length) allowing educators access to "snack-able" content that is easy and accessible to view and implement.
Teachers, administrators, professional learning communities, coaches, mentors, instructional leaders, and paraprofessionals have available at their fingertips hundreds of indexed and searchable video segments that present real, best-practice classroom examples and feature respected education experts, such as Michael Fullan, Rick DuFour, Doug Reeves, Rick Stiggins, and many others. Educators can instantly find the help they need on nearly every topic, including differentiation, assessment, English language learners, leadership, and more. PD 360 can also be used to create a structured learning experience for an individual teacher, a PLC, or even an entire school. The dynamic platform bridges the gap between training and classroom implementation with job-embedded follow-up, tracking, and reflection tools. PD 360 gives educators access to an online community of teaching professionals that allows interaction and collaboration either within a district or across the United States and the world. PD 360 includes over 1,800 research-based video learning segments and is the most comprehensive web-based library of professional development resources available. See a demonstration at http://www.pd360.com.
School Improvement Network, PD 360, Common Core 360, and their respective logos are trademarks of the School Improvement Network. All other trademarks and registered trademarks are the property of their respective owners.
Press Contact:
Duane Sprague
School Improvement Network
801-758-9546
duane.sprague(at)schoolimprovement(dot)com
###