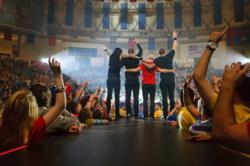 Lynchburg, VA (PRWEB) January 27, 2012
Liberty University in Lynchburg, Virginia is headlining its first nationwide concert tour, REDvolution! 2012, featuring the band RED with special guests Thousand Foot Krutch, Manafest, Nine Lashes and Kiros. The tour will kick off Feb. 10 in Rochester, Minn., and end March 24 in Fort Wayne, Ind. A Liberty recruiter will travel with the band and provide tour updates to the public via Facebook and Twitter, as well as the Liberty University website.
A grand prize package, funded by Liberty, includes a $16,000 scholarship to Liberty and an exclusive REDvolution! 2012 tour guitar signed by each member of the touring bands. To register, concert attendees must fill out an application to Liberty University at the Liberty University booth. The $40 application fee will be waived and each applicant will receive a special edition, REDvolution! Liberty t-shirt.
Concert dates and tour information is located on each band's website, and at http://www.liberty.edu/REDvolutiontour2012. Tickets can be purchased from each band's respective website and at echoconcerts.com. Free concert tickets will be given away online at facebook.com/libertyadmissions.
Booked concert dates:
10-Feb Rochester, MN
11-Feb Thief River Falls, MN
12-Feb St. Cloud, MN
17-Feb Richmond, VA
18-Feb Cary, NC
19-Feb Blountville, TN
24-Feb N. Charleston, SC
25-Feb Jacksonville, FL
26-Feb St. Petersburg, FL
8-Mar Corpus Christi, TX
9-Mar Dallas, TX
11-Mar Tulsa, OK
15-Mar Las Vegas, NV
16-Mar Redlands, CA
17-Mar Phoenix, AZ
21-Mar Wichita, KS
22-Mar Fort Smith, AR
23-Mar Sauget, IL
24-Mar Fort Wayne, IN
More concerts may be added to the schedule so check out liberty.edu/REDvolutiontour.
Liberty University, located in Lynchburg, Va., is the world's largest Christian university. More than 12,000 students attend classes on its 6500-acre residential campus and more than 61,000 study in its thriving online education program.
###