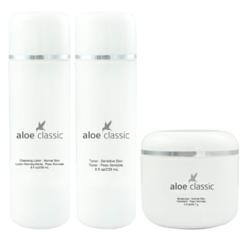 We are thrilled to offer the Aloe Classics Collection because we recognize the tremendous moisturizing and healing benefits of aloe vera.
(Pamela C. Dean, founder and CEO of Avalla)
Houston, Texas and Calgary, Canada (PRWEB) January 29, 2012
Nature meets innovation in a new skincare line by Avalla, LLC called the Aloe Classics Collection. The timeless benefits of aloe vera date back to the ancient Egyptians, who first used this succulent plant to heal wounds and protect the skin. Its sought-after properties also aid in keeping the skin smooth, glowing and highly moisturized, as well as preventing premature aging and uneven skin tone.
"We are thrilled to offer the Aloe Classics Collection because we recognize the tremendous moisturizing and healing benefits of aloe vera," says Pamela C. Dean, founder and CEO of Avalla. "Using today's improved technology and scientific research to build upon gifts found in nature—for the purpose of keeping us young and healthy—is at the core of our product development story." Avalla is a Houston, Texas-based direct selling company that offers botanically-based skincare, anti-aging, beauty and wellness products, along with an entrepreneurial opportunity that includes unlimited income potential, flexibility and the freedom to have one's own business without high start-up or overhead costs. "When I first experienced the formulation of Aloe Classics, I knew we had a fantastic aloe-based skincare line to share with our customers throughout the United States and Canada."
The Aloe Classics Collection includes products designed to meet the needs of Normal and Dry skin types. It features a cleanser and moisturizer for each skin type, and a toner to balance the pH of any skin type—including sensitive skin. The ultra creamy moisturizer, Night Therapy, rounds out the line as the perfect complement for extra overnight moisturizing.
All products in the line contain superior grade aloe vera, as well as other good-for-the-skin ingredients such as Vitamin E, avocado, sesame seed, wheat germ, sweet almond, grape seed, palm oil and apricot kernel oil. The collection leaves the skin feeling fresh and moist, with a healthy glow.
Avalla products are never tested on animals and do not contain petroleum or petrochemicals, waxes or cheap fillers, and acetones or alcohols. Avalla stands by its products with a 30-day, money back guarantee.
About Avalla:
Avalla offers an extraordinary line of botanically inspired beauty and wellness products that are safe, naturally sourced and offer excellent value to customers. By combining the purest ingredients that the earth has to offer, along with state-of-the-art product formulations perfected by science, Avalla combines the best-of-the-best products, people and technology to attract the next generation of leaders, consultants and customers. The company prides itself on creating a heart-based family of successful entrepreneurs who are dedicated to assisting others in achieving a financially secure lifestyle and empowering them to believe in themselves. Avalla is a member of the Direct Selling Association, and adheres to and supports their code of ethics. To learn more, visit http://www.avalla.com.
Avalla president and founder Pam Dean is available for media interviews. To schedule an interview, contact Gina Mazza at 724.316.4751 or email ginamazza(at)me(dot)com.
E-photos are also available.
###