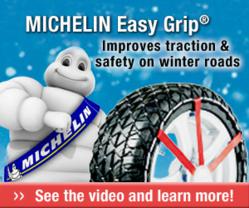 "The MICHELIN Easy Grip snow chains are a must-have safety product for drivers that face severe winter driving conditions," said Jennifer Moore, Product Manager, Cequent Consumer Products.
GREENVILLE, S.C (PRWEB) January 30, 2012
Michelin announced that it is offering the new MICHELIN® Easy Grip™ composite snow chains in North America. As a result of extensive research and development efforts, Michelin launches Easy Grip™, a new generation of composite snow chain, which provides the ultimate performance on snow covered roads and is very easy to use. This innovative product has already enjoyed great success in Europe where it has received several consumer awards; including a "Product of the Year" designation.
The success of Easy Grip is largely due to the unique construction of composite materials that deliver outstanding performance, in a user-friendly format. The patented snow chains provide superb traction and lateral control on snow-covered roads at up to 25 mph with the additional benefit of being very easy to use. MICHELIN Easy Grip snow chains take only minutes to install and seconds to remove, making them an ideal temporary traction device. A simple and convenient alternative to traditional metal chains, Easy Grip composite snow chains also provide a smoother, quieter ride and will not damage road surfaces.
"The MICHELIN Easy Grip snow chains are a must-have safety product for drivers that face severe winter driving conditions," said Jennifer Moore, Product Manager, Cequent Consumer Products. "So easy to put on and take off, these should be in the trunk of any car heading to the slopes this winter." Cequent Consumer Products is the distributor of the Easy Grip.
The Easy Grip snow chains also feature a reflective Night Vision Security System which improves the visibility of the vehicle in dark and snowy conditions. Each pair of MICHELIN Easy Grip snow chains comes packaged in a handy, reusable storage case that easily stores in the vehicle's trunk. The snow chains come in various sizes to accommodate the majority of passenger vehicles. To determine the correct size check the sidewall of the tire and the Easy Grip Application chart. This product is not for use on campers, utility vehicles, trucks or modified vehicles. MICHELIN Easy Grip composite snow chains will last multiple seasons when driven correctly on snow covered surfaces.
What makes Easy Grip a great alternative to other products?
Traction – Optimum grip and handling on treacherous winter roads, without the hassle and noise of metal chains;
Quick and Easy Installation – Easy Grip fits in 2 minutes;
Convenient storage – Compact and lightweight, easy to store in any size vehicle;
Night Vision Security – Reflective system increases visibility in the dark;
Comfort - Lightweight structure provides a smooth, quiet ride with no vibrations
Safety – Enjoy the road and have a safe journey thanks to MICHELIN Easy Grip snow chains
MICHELIN Easy Grip high performance composite snow chains are distributed under licence by Cequent Consumer Products the industry's leading designer, manufacturer and marketer of innovative consumer products for the automotive aftermarket industry. They are available at select retailers including Amazon.com, etrailer.com, Walmart.com and Grainger or by special order anywhere Cequent Consumer Products are sold. Check CequentConsumerProducts.com for a listing. http://www.cequentconsumerproducts.com
About Michelin Lifestyle Limited
Michelin Lifestyle Limited (MLL) was launched in 2001 as a licensing program to extend the MICHELIN brand into new consumer markets worldwide. MLL's vision is to help establish MICHELIN as an innovative, stylish and desirable brand in each market it enters through the development of different product categories, including: automotive and cycle-related products; footwear and footwear outsole technology for work, sport and leisure; and personal accessories, gifts and collectibles promoting Michelin's heritage and its world famous Michelin Man icon.
About Michelin North America
Dedicated to the improvement of sustainable mobility, Michelin designs, manufactures and sells tires for every type of vehicle, including airplanes, automobiles, bicycles, earthmovers, farm equipment, heavy-duty trucks and motorcycles. The company also publishes travel guides, hotel and restaurant guides, maps and road atlases. Headquartered in Greenville, S.C., Michelin North America (http://www.michelinman.com) employs more than 22, 200 and operates 18 major manufacturing plants in 16 locations.
About Cequent Consumer Products
Cequent Consumer Products, Inc. is the industry's leading designer, manufacturer and marketer of innovative consumer products for the automotive aftermarket industry. For more than 85 years, Cequent Consumer Products has produced some of the most dependable products in today's market including superior-quality towing and hitch systems, trailer components and accessories, as well as electrical, brake, cargo carrying and rack systems for cars and trucks. Our established brands are sold through leading automotive retailers nationwide. Our brands are leaders in the industry and include: Reese Towpower, Highland, Rola, Fulton, and Bulldog. Cequent Consumer Products is part of the Recreational Accessories business segment of TriMas Corporation headquartered in Bloomfield Hills, Michigan. Visit http://www.cequentconsumerproducts.com
Follow Us on Facebook and twitter
Facebook Twitter
Downloadable Press Kit is available for media
For more information:
Shannon Ketvertes
Cequent Consumer Products
office: 1 440 519 8066 mobile: 1 864 264 3968
Sketvertes(at)cequentgroup(dot)com
Tony Fouladpour
Michelin North America
office: 1 864 458 4335 mobile: 1 864 380 6986
tony.fouladpour(at)us.michelin(dot)com
###