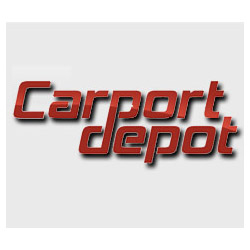 Orange, CT (PRWEB) January 30, 2012
Vehicles, from cars to RVs, all need protection from the weather. What appears harmless – some sun or a bit of rain – can eventually damage the surface of a car, boat, motorcycle, or RV. But, if a brick-and-mortar garage is not present for sheltering such a vehicle, a carport is an economical option. Designed out of galvanized or powder-coated steel and polyethylene, a carport keeps out the elements while not locking moisture inside. Launched on January 25, 2012, Carport Depot is the newest online retailer for high-quality portable shelters and offers a variety of structures for temporary and long-term storage.
As a site designed to meet and exceed customers' unique outdoor product requirements, Carport Depot aims to be both a destination for portable shelters and for relevant corresponding information. In the present, the site offers a product selection including heavy-duty and economy carports, portable garages, animal and agriculture shelters, and pop-up canopies. In the future, Carport Depot expects to include manuals, information resources, how-to videos, ideas, and support for customers' specific sheltering needs.
Storage level varies for each individual's investments, and as a result, Carport Depot offers a large selection of carports. Available in enclosed or valance styles, the site's carports range from fully metal to galvanized or powder-coated steel and polyethylene combinations. Strengths range from heavy-duty to economy. Regardless of the make or strength, however, Carport Depot's shelters keep damaging UV rays and water away from vehicles; do not lock in moisture; are equipped to prevent mold, dry rot, and mildew buildup; and can be used for temporary or long-term storage needs. Additionally, the store's carports are available in round, house, and barn shapes.
Carport Depot's scope of shelters is expansive. In addition to carports, the store offers portable garages, boat, motorcycle, and RV shelters, run-in sheds, and replacement covers for various storage needs. Those with boats or RVs, for instance, often need seasonal protection for their vehicles; long-term and constant exposure to UV rays and water ends up damaging the surface, and possibly internal components, of boats and RVs. Storing the vehicle inside a portable shelter for the winter keeps it in good condition and helps with reducing long-term maintenance.
Carport Depot also includes temporary shelters in its product selection. As shade is needed outdoors in a backyard, at a party, for a flea market or trade show, or for a day at the beach, a pop-up canopy can be set up, anchored, and taken down quickly in any of these instances. Made out of powder-coated steel and polyester, pop-up canopies are offered in various sizes through Carport Depot.
Building a brick-and-mortar garage from the ground up is an expensive and time-consuming endeavor. Instead of the blueprints, materials, and construction, a carport provides the appropriate amount of shelter at a fraction of the cost. Offering comprehensive sheltering solutions, Carport Depot addresses each individual's storage and vehicular protection needs through its product selection.
Press release services and search engine optimization provided by Keyword Performance.
###