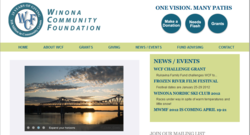 St. Louis, Missouri (PRWEB) January 30, 2012
The Winona Community Foundation (WCF) in southern Minnesota anticipates a successful New Year with a website redesign that will allow them to strengthen community through philanthropy. In late 2011, the WCF reached out to The Net Impact, the web design, web marketing and web development division of Unidev to implement a full website redesign for the WCF. The Net Impact recommended developing the new website in Auctori, a highly secure and global content management system that facilitates advanced search engine optimization (SEO). But the real advantage to implementing a content management system is the ability to add and update content without the help of a web developer or designer.
"This year is a special year as we celebrate the 25th Anniversary of The Winona Community Foundation on January 26th. What better way to celebrate such a monumental accomplishment than by improving our website?" says WCF President, Tina Anderson. "It speaks highly to our level of commitment to this community. We're investing in ourselves so that we can benefit our community even more. This new website and content management system will allow us to more effectively communicate and share information with the community around us."
The new WCF website offers a wide variety of valuable information for those looking to both give and receive funds in the Winona, Minn. area. The websites provides information on grants, giving guidelines for corporations and individuals, WCF news and events and fund advising documents and resources. The Net Impact and Auctori team added PayPal integration to the website to allow for easy donation processing and record keeping.
WCF's custom website design utilizes three standard Auctori modules; the content module, form builder module, and the navigation module with additional modules available upon request. An additional module incorporated into the WCF website is the articles module.
About Winona Community Foundation
Established in 1987, The Winona Community Foundation is a not-for-profit foundation that strengthens their local community through philanthropy. The Winona Community Foundation improves the quality of life in the Winona, Minn. area through public education on philanthropy, good stewardship, charitable resource management, community collaboration, community project support and grant distribution. For more information on The Winona Community Foundation, please visit http://www.winonacommunityfoundation.org, or call (507) 454-6511
About The Net Impact®
The Net Impact, an Internet marketing and web development and design firm, is a division of Unidev®. Since 1997, The Net Impact has been a web development leader empowering clients with highly creative search engine friendly websites. Professional services encompass search engine and Internet marketing solutions, Internet strategy development, training and seminars and web design. For more information on The Net Impact, please visit http://www.thenetimpact.com, or call (636) 458-7772.
###