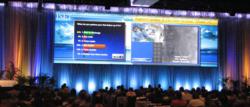 Plymouth Meeting, PA (PRWEB) January 30, 2012
On January 15th, 2012 Meridia Audience Response provided group polling and accreditation reporting for a National Medical Association. This event was Meridia's 20,000th live event in its 42-year history and demonstrated how an established company continues to push the limit of technology as a way of interacting with an audience.
Founded in 1970, Meridia began servicing the live event industry by providing slide services for the Fortune 500 companies. As this technology gave way to computer imaging and then to the meeting industry's eventual acceptance of PowerPoint, Meridia transitioned from slide imaging services to audience response technology. Beginning first with wired keypads and then being the first company in the US to utilize wireless RF keypads, Meridia has led the nation in wireless polling system innovation and software development for the last 27 years.
Meridia's 20,000th event was yet another example of how this 42 year-old company continues to innovate. Meridia combined audience response keypads with live tele surgery, allowing 1,200 cardiologists to interact with operating surgeons during a procedure. The cardiologists viewing the surgery utilized wireless clickers to share their thoughts with their colleagues on what they felt should occur next during the procedure, or what was the proper stent for the required task. The doctors performing the operation then viewed the consensus opinion of their peers in the operating room and often replied to the viewing audience regarding why their opinion was correct, incorrect or different. Both the event and the live surgery were a success and a great example of how audience response technology is utilized as a learning and interactivity tool.
By continuing to incorporate cutting edge technology with live event polling Meridia has well positioned itself to conduct another 20,000 events in the years that come.
Since 1970, Meridia Audience Response has been providing innovative technology solutions for the meeting, training and entertainment industries. Combining the experience with the latest in web technology and radio frequency hardware, Meridia is now enabling audiences around the world to cast their vote and be part of the meeting, whether it involves training or interactive games.
# # #