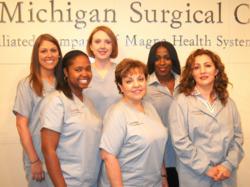 We are happy that we are finally able to provide our service to patients when it is needed.
Chicago, IL (PRWEB) January 30, 2012
DayOne Health, Chicago's premier weight loss program has the pleasure of announcing great news for future LAP-BAND® patients with Blue Cross Blue Shield of Illinois health insurance. Starting on February 2012, Blue Cross Blue Shield of Illinois (BCBS-IL) will waive their six month diet requirement for the approval of weight loss surgery. What this means for patients is a significantly shorter waiting time to have surgery.
This change radically accelerates the BCBS insurance approval process for weight loss surgery patients. Until now, requirements in most BCBS health insurance policies stated that in order to qualify for the LAP-BAND® procedure, patients needed to undergo six consecutive months of a medically supervised diet. Following the diet, patients and their health providers were required to submit documentation to BCBS for approval. In practice, it meant that patients who wanted BCBS health insurance to cover their bariatric surgery had to wait over six months before applying for coverage.
At DayOne Health outpatient weight loss clinic in Chicago, where a majority of patients have their LAP-BAND® procedures covered by insurance, this change in BCBS requirements is a real breakthrough. "This is important news for many of our patients," says Guita Griffiths, President of DayOne Health. "The decision to change your life and undergo weight loss surgery is very personal. Saying "no" to a patient who has already made this important decision and coaching them through the six months of diet supervision was never easy. We are happy that we are finally able to provide our service to patients when it is needed."
Dropping the six month diet from the list of BCBS-IL requirements is a big step toward improving each patient's experience. DayOne Health hopes that this decision is just the beginning of making outpatient weight loss procedures accessible, and that other insurance companies will soon follow BCBS's lead. "All patients who come to DayOne Health, or decide to have a LAP-BAND® procedure, have been on a diet for a significant part of their lives. Making them wait an additional six months, means not only postponing the treatment, but also risking development of co-morbidities that with time become harder to cure," Ms. Griffiths adds.
While the staff at DayOne Health Chicago is excited to be able to provide better service to their patients, they are aware of the additional responsibility that will come with the faster approval process. "While the six month diet program in a large majority of cases didn't bring a significant amount of weight loss, the diet months were a good opportunity for patients to prepare for their new lifestyle and work on their eating habits," says Christine Bransford, bariatric dietitian at DayOne Health. "Now we will be preparing patients for the fact that the timing of behavioral change moves to after surgery." What it means for the patients is more appointments with a bariatric dietitian after they get their LAP-BAND® and more post-operative support to succeed with the band.
"At DayOne Health we always strive to provide our patients with the best possible care, and with as much support as they need to succeed in their weight loss goals. We actively promote and encourage our LAP-BAND® patients to consult with our dietitian throughout their weight loss journey." says Ms. Griffiths, "With new requirements in place, I am sure that patients will be eager to meet with our nutritionist before and after their weight loss procedure and will achieve more effective results." As Ms. Griffiths points out, after months of required dieting and waiting to obtain insurance approval, patients often lose their zeal to focus on behavioral change. In contrast, if the approval process is streamlined, patients become empowered to learn about the wonderful life change they are undertaking with the LAP-BAND® procedure at their peak of commitment, resulting in a higher chance of long-term success.
About DayOne Health
Headquartered in Chicago, Illinois, DayOne Health performed its first outpatient LAP-BAND® surgery at 900 North Michigan Surgery Center in November 2001, shortly after the procedure was approved for use in the United States by the Food and Drug Administration (FDA). On March 20, 2008, DayOne health was designated as a Bariatric Surgery Center of Excellence (BSCOE) by the American Society for Metabolic and Bariatric Surgery (ASMBS). DayOne Health is home to some of the most experienced bariatric surgeons in the country and specializes in the Laparoscopic Adjustable Gastric Banding or LAP-BAND® procedure, an effective, safe and less invasive alternative to the gastric bypass. The DayOne Health advanced weight loss program offers comprehensive pre-surgical patient education, nutritional counseling, state-of-the-art outpatient surgical facilities, expert medical staff and extensive aftercare support. For more information about DayOne Health and its outpatient LAP-BAND® surgical weight loss program, visit DayOne Health or follow DayOne Health on Facebook, Twitter or YouTube.
# # #