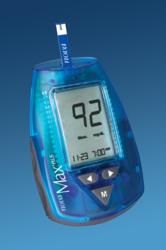 Waltham, MA (PRWEB) January 30, 2012
A recent published study shows the Nova Max Plus glucose meter to be more accurate than other leading brands of glucose meters on blood samples that have low levels of hematocrit1. Blood containing a low level of hematocrit (medical term: anemia) has been shown to be a leading cause of inaccuracy for most glucose meters.2,3 Anemia is prevalent in the diabetes population, occurring in approximately 25% of people with diabetes.4 Anemia also occurs among nearly 30% of diabetes patients using metformin for at least three years.5
Anemia increases the risk of erroneous glucose readings in most glucose meters. Most glucose meters are calibrated at a normal hematocrit level for adults. If a person's hematocrit is lower than the calibration point, glucose meter readings can be erroneously high, resulting in undetected hypoglycemia or mis-dosing of insulin. Two groups in particular frequently exhibit lower than normal adult hematocrit levels: children and the elderly. Low hematocrit levels are also associated with diabetes complicated by kidney disease, pregnancy, or heart disease5.
In this study presented at the European Association for the Study of Diabetes (EASD) 47th Annual Meeting, glucose meter readings were obtained on blood samples with very low hematocrit levels using Nova Max Plus and four other leading brand blood glucose meters. The study showed the Nova Max Plus to be the most accurate, with total error of 9.3%, versus 20.2%, 31.6%, 35.2%, and 31.9% for the other meters tested. The study was performed by the Clinical Translational Research and Innovation Center (C-TRIC), an independent, award winning research center. For more information regarding the C-CTRIC study or Nova Max products, visit the Nova Diabetes Care website at http://www.novacares.com
About Nova Diabetes Care
Nova Diabetes Care is the exclusive distributor of the Nova Max brand of consumer glucose meters and strips in the United States. Nova Diabetes Care is dedicated to improving lives of people with diabetes by providing advanced technology products along with 24 hour, best in class customer support. Nova Diabetes Care representatives are available throughout the U.S to provide Nova Max sample meters and educational materials for diabetes educators and other healthcare professionals, and educational programs for their patients. Nova Cares toll free customer service line is available 24 hours per day, 365 days per year to answer questions and provide support concerning the use of Nova Max products. Further information about Nova Diabetes Care and the Nova Max products can be found at http://www.novacares.com or by calling our toll-free customer service number 800-681-7390.
1. O'Kane M, McCloskey M, Diver-Hall C. How accurate are blood glucose meters used for patient self-testing? Poster session presented at: 47th Annual Meeting of the European Society for the Study of Diabetes; 2011 September 14th; Lisbon, Portugal.
2. Tang Z et al. Effects of different hematocrit levels on glucose measurements with handheld meters for point-of-care testing. Arch Pathol Lab Med 2000; 124:1135-1140.
3. Pidcoke H et al. Anemia Cause Hypoglycemia in intensive care unit patients in single channel glucometers: Methods of reducing patient risk. Crit Care Med 2010; 38(2):471-76.
4. Thomas MC, et al. Unrecognized anemia in patients with diabetes: a cross-sectional survey. Diabetes Care. 2003 Apr 26(4):1164-69.
5. http://www.healthcentral.com/diabetes/treatment-159153-5.html Accessed 1/23/12
NovaMax is a registered trademark of Nova Biomedical.
# # #