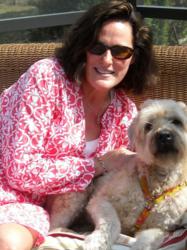 We're on this journey together. It's not Peer-to-Peer, it's Friend-to-Friend.
Mill Valley, CA (PRWEB) January 30, 2012
Merck has awarded $15,000 to the Sarcoma Alliance for its Peer-to-Peer Network, the national nonprofit announced today.
"Thank God the Sarcoma Alliance has this program," says Sarah of St. Cloud, Fla. She and Brenda were matched five years ago. (Neither wanted to use their last name publicly.) They talk once, twice, sometimes even three times a week by phone, but they've never met. Brenda lives across the country in Corona, Calif.
"I got blessed," Sarah says. "We became fast friends. We both leaned on each other. We're on this journey together. Hopefully, one day we'll meet.
"It's not Peer-to-Peer, it's Friend-to-Friend."
The grant will update the software and pay for a pamphlet on the program in hopes of reaching more people affected by sarcoma, says Arthur Beckert, executive director of the Alliance.
The program is open to patients, caregivers and other loved ones. The Alliance matches people based on their needs, he says, and they usually communicate by phone or through the Internet.
The program began in 2005. It now has more than a thousand participants in all 50 states and 12 countries, he says.
People with common cancers can meet in the same city, Beckert says. But that's difficult with sarcoma, which represents only 1 percent of adult cancers (but 15 percent of childhood cancers). That's why the Sarcoma Alliance uses various technologies to connect people around the world, he says. In addition to being rare, sarcoma has more than 50 subtypes; it can arise anywhere in the body in any age, from newborn on up.
Sarah and Brenda were diagnosed six years ago with synovial sarcoma. Sarah's left arm was amputated above the elbow, and Brenda lost her left leg above the knee. Both did chemotherapy.
"Brenda and I are like mirror images. Same age, same sarcoma," says Sarah, 49.
"We talk all the time about everything -- life in general – and we joke!" Brenda says.
When a lump arose on her leg, she says, she got a biopsy. Otherwise, "I would not let any one touch me until they knew what it was. I had no clue I had sarcoma, but I had the gut feeling that this would kill me if they screwed up."
Sarah says she had pain in her elbow for a number of years. One doctor put her on antidepressants. She saw an orthopedic doctor for carpal tunnel. The doctor who finally diagnosed her said "he had never seen another sarcoma in all of his years."
"I thought I was doomed." But she saw specialists and remains in remission, as does Brenda. Even now, Sarah says, "Cancer is always in the back of your mind. You're never really free of it."
A nurse with synovial sarcoma founded the Alliance in 1999 in Mill Valley, north of San Francisco, to provide guidance, education and support to others. Merck is the second-largest healthcare company in the world. Its U.S. headquarters are in Whitehouse Station, N.J.
For more information, go to http://www.sarcomaalliance.org/P2P.shtml
###