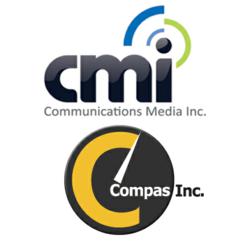 "The changes we embark on today are part of our continuing evolution as a partner of choice to create a more responsive organization that is closer to the needs of our clients and their customers," said Stan Woodland, CEO
KING OF PRUSSIA, PA (PRWEB) January 31, 2012
CMI/Compas today announced a strategic organizational realignment designed to forge a tighter link between pharmaceutical sales and marketing promotional requirements and CMI/Compas' unique ability to leverage its proprietary data, processes and tools to advance promotional access, engagement and ROI with targeted HCP and consumer audiences. This new corporate alignment expands several executive roles, placing a strategic executive team across the family of companies, and creating new corporate divisions.
The executive team under Chief Executive Officer Stan Woodland's direction will comprise:
Ken Jones, Managing Partner
James Woodland, Chief Operating Officer
Dr. Susan Dorfman, Chief Marketing & Innovation Officer
John Donovan, Chief Financial Officer
Nicole Woodland-DeVan, Senior Vice President, Buying Services & Deliverables
Nancy Logue, Senior Director, Human Resources
Communications Media, Inc. (CMI) and Compas, Inc. are well known in the industry as, respectively, media planning and buying companies for pharmaceutical clients. The family of companies also includes InfoCures, a business intelligence and media technology consultancy; Singularity Design, a full-service multi-channel media innovation and design agency; and MEDtrak Educational Services, a medical education and engagement company. This realignment positions our companies for continued growth and to better partner with clients and suppliers. While operationally the companies will remain separate agencies, functionally they will work closer together and in concert to provide a full suite of marketing services to clients. As a result, CMI/Compas will continue offering strategic media planning and buying services that will be greatly strengthened by media innovation, customer insights and technology.
The new organizational structure will focus heavily on moving the promotional needle for clients. The company has made significant investment in the creation of new and expanded divisions, including Supplier Alliance Management, Business Results Management, Innovation, Technology and Customer Insights. When combined with the company's relationships with thousands of digital and print media publishers, non-personal promotional suppliers, leading data providers, and new rising media stars, these divisions and capabilities enable CMI/Compas to be the leading media partner of choice for results-based promotion.
"The changes we embark on today are part of our continuing evolution as a partner of choice to create a more responsive organization that is closer to the needs of our clients and their customers. It is critical for us to continuously seek out and deliver media innovation and unprecedented audience access and reach so we can strengthen our clients' ability to achieve their marketing goals and move the promotional needle," said Stan Woodland, CEO. "While our strategy is based on the original mission, vision, and values we have held for over 22 years, we must continue to sharpen our focus and invest in the future of media, audiences, our team, and the needs of our clients. This realignment brings key functions together, combining our talent and improving our effectiveness and productivity in advancing media planning, media buying, customer insights, measurement, and innovation for all of our clients."
About CMI/Compas
Well-known as a media planning and buying organization for healthcare clients, sister agencies Communications Media, Inc. (CMI) and Compas, Inc. are the indispensible strategic marketing partner to the world's game-changers in health, offering guidance at every level of marketing. CMI/Compas focuses on core service offerings of Media, Innovation, Customer Insights, Technology, and Buying. CMI/Compas is laser-focused on helping clients move the promotional needle.
CMI/Compas has offices in Philadelphia; King of Prussia, PA; Pennsauken, NJ; and New York. The family of companies is actively recruiting for healthcare marketing jobs via http://www.cmirecruiter.com.
###