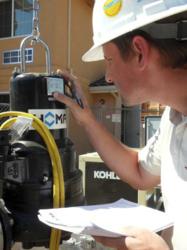 We act as liason between engineer and contractor insuring that the materials specified are exactly what is installed in the field.
Sparks, NV (PRWEB) January 28, 2012
Jensen Engineered Systems, a division of Jensen Precast, announced that they will debut their new pump station design video during the 8th biennial Southwest Onsite Wastewater Conference and Exhibit. The conference, as well as the video, is a resource for engineers, contractors, governments, and end users concerned with pump stations, lift stations, booster stations, meter vaults, pressure reducing vaults (PRVs), and onsite wastewater in general.
"We've been working on this video for several months," said Charlie Moses, CDT, Product Development Manager for Jensen Precast. "We're a big supporter of the Arizona County Directors of Environmental Services Association (ACDEHSA), and working with them leading up to this conference has been a pleasure.
"As a gold sponsor and exhibitor at the conference, we are very pleased that we can debut our the video during the show. The film addresses many of the concerns engineers, contractors, and end users have about design, reliability, ease of use, and maintenance associated with pump stations."
Some of the exciting topics that will be covered at the 2012 Southwest Onsite Wastewater Conference include the dangers of inadequately managed water with regard to N. fowleri infection; NSF standard for onsite treatment systems; onsite system failures and microbial monitoring methods; study on human pollution in "Mud River", and the necessity for local water reuse, save water, energy and nutrient recovery. You'll find Jensen Engineered Systems in booth #15.
About Jensen Engineered Systems – Jensen Engineered Systems, a division of Jensen Precast with corporate offices in Sparks, NV, designs wastewater, stormwater, and clean water pump and lift solutions for customers throughout Southwestern United States and Hawaii.
About Jensen Precast – Jensen Precast, founded by Don Jensen in 1968, is one of the largest independently owned precast concrete manufacturing companies in the United States. With corporate headquarters in Sparks, NV, Jensen Precast has 12 production facilities throughout the Southwest and Hawaii. Jensen Precast designs and manufactures standard and custom precast concrete products to meet small to large-scale infrastructure demands. Jensen Precast products are made in the USA and are used in highway construction, retaining walls, electric and gas utilities, telecommunications, stormwater capture and treatment, rainwater harvesting, on-site wastewater, sewage applications, above ground fuel storage, and more.
For more information contact:
Marcia Neese
Dir: 775-352-2709
Cell: 775-997-8466
http://www.jensenprecast.com
###