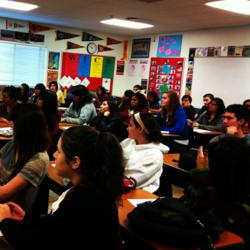 I'm proud to know that San Diego schools have a program as valuable as A.V.I.D. - William R. Simon, Jr.
(PRWEB) January 31, 2012
San Diego Law Firm CEO, William R. Simon, Jr., was selected to speak to Mission Hills High School (San Marcos) A.V.I.D. II and III students about the importance of college and the path to success. William R. Simon, Jr. attended Grossmont High School and the University of San Diego. He is a graduate of Western State University College of Law. San Diego Law Firm, managed by William R. Simon, Jr., makes it a policy to hire college graduates, amongst other minimum qualifications required with respect to each position.
The A.V.I.D. program (an acronym which stands for Advancement Via Individual Determination) is designed to help middle achieving students—B, C, and even D students—(grades 4-12) who have the desire to go to college and the willingness to work hard prepare for and succeed in colleges and universities. The course teaches students how to study, read for content, take notes, and manage time. Students also participate in study groups, motivational activities and career investigations that guide them in reaching their educational goals. According to the California Department of California, "A.V.I.D.'s mission is to close the achievement gap by preparing all students for college readiness and success in a global society."
The A.V.I.D. program invites distinguished members from the San Diego professional community to speak with students on influential topics like leadership, determination, passion, and the journey to college. Speakers are asked to address the various jobs found within their industry, respective criteria for employment, the day to day responsibilities associated with their role in the company, and their personal journey.
"A.V.I.D. is an incredibly valuable program that levels the playing field for minority, rural, and low-income students who don't normally have a family tradition of attending college. Having the chance to speak with A.V.I.D. students was an inspiring opportunity, one that reignited my appreciation for the teachers and mentors who influenced the trajectory of my life. I learned more from those students in two hours then I could ever have imagined. In fact, three days later I found myself reciting a similar message to our Management Team at San Diego Law Firm. I'm proud to know that San Diego schools have a program as valuable as A.V.I.D. and teachers like Mrs. Corneilson available to students," says William R. Simon, Jr.
Mission Hills High School A.V.I.D teacher Jan Corneilson has been teaching for 24 years, 16 at San Marcos High School and eight at Mission Hills High School. She adds, "Teaching A.V.I.D. and all four levels of English-Language Development at Mission Hills has re-energized me. I feel so lucky to be able to say that, at year 24, I get up every morning anticipating a great day with my students."
Per the California Department of Education, more than 4,500 schools in 48 states and 16 foreign countries offer the A.V.I.D. program. In addition, 74% of A.V.I.D. students were accepted to a four year college in 2011.
About San Diego Law Firm
Located in North Park, San Diego Law Firm has a reputation for outstanding ethics in the marketplace, as recognized by the Better Business Bureau. The firm serves clients in a variety of matters, including business and real estate law; bankruptcy; divorce, support and custody; accidents and injuries; lawsuits and disputes; and wills, trusts and probate. To learn more about San Diego Law Firm, visit http://www.sandiegolawfirm.com.
###