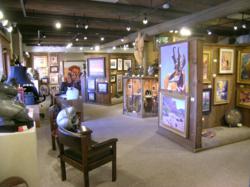 Sedona, AZ (PRWEB) January 30, 2012
The Windrush Art Gallery decided to go green this month by taking advantage of subsidy programs from utility provider, Arizona Public Service, and upgrading to environmentally-friendly LED lighting.
John McCullough, the owner of Windrush Gallery, has already seen a big drop in his electric bill for January, and expects to save $3,136 per year between energy savings and maintenance cost savings.
McCullough also noticed that his gallery is about thirteen degrees cooler than before, because the LEDs produce less heat than the old halogen bulbs. He is looking forward to seeing the additional savings on his air conditioning bill this summer.
The best part for McCullough might be the way the LEDs make the art look. "The light quality of the LEDs makes the paintings come alive," says McCullough, and adds that he is already receiving positive feedback from customers and the artists featured in his gallery.
Windrush used the services of LED lighting and energy efficiency company, Nularis Energy Solutions to make the upgrade.
"Nularis works closely with utility companies across several regions in Arizona and the U.S. to get subsidies for our clients," says Era Tadevosian, Nularis' Vice President of Sales. "In some cases, utilities companies have paid for more than half of the total project cost with these subsidies. Not only does our client see immediate savings on his or her energy bill, but the utility will actually write them a check."
The Arizona-based utility company, Arizona Public Services (APS), paid for one-third of the cost of the project, as part of its kilowatt-shed rebate program that encourages its customers to upgrade to energy efficient lighting. "The rebate check definitely made it a lot easier for me to afford," says McCullough.
McCullough says that people are welcome to take a look at the new lighting, as long as they stop to admire the art too.
###