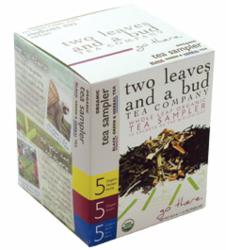 Basalt, Colorado (PRWEB) January 30, 2012
Two leaves and a bud tea company has recently developed and introduced its first-ever two-sachet sampler - a delightful duet featuring two of its leading organic tea flavors; Organic Assam black tea and Organic Better Rest Blend herbal tea. Organic Assam breakfast tea features black, organic tea leaves grown in Assam, India, where hot days and cool nights expose a rich, full flavor not typically found in traditional English breakfast teas. The Organic Better Rest tea offers a relaxing blend of chamomile, peppermint, hops and valerian. Lemon balm and rose hips make this caffeine-free herbal beauty a soothing and healthy part of a bedtime ritual.
"The new Tea Duo provides the perfect balance of energy and relaxation," says Richard Rosenfeld, founder and CEO of two leaves and a bud tea company. "It's almost like yin and yang. You can start your day with Assam, feeling energized and capable of taking on what the day may bring, and you can end your day with Better Rest...literally. The calming notes and rich aroma of the Better Rest Blend allow you to breathe deeply and fall asleep peacefully."
In response to customer demand, two leaves and a bud is now offering a Three Tea Sampler. This new box of whole leaf tea sachets contains a set of three organic teas with varying levels of caffeine to provide the perfect cuppa' tea all day long. The Three Tea Sampler contains five sachets each of Organic Assam, Organic Tamayokucha (a moderate yet smooth Green Tea) and Organic Better Rest Blend.
Customers can purchase the Tea Duo and Three Tea Sampler online now via the two leaves and a bud website and at their favorite stores and cafes in mid-to-late 2012. The Tea Duo is also a perfect option for gift baskets, hostess gifts, and wedding favors. The petite packaging fits comfortably into even the smallest gift basket but is also charming enough to sit atop a pillow or on a bedside table in a guest room.
"People love to gift coffee and tea, but the trouble is that it's difficult to know what type of tea and coffee the recipient enjoys," explains Rosenfeld. "With the Tea Duo and Three Tea Sampler, we've done the legwork by traveling the world to source the finest quality tea and have strategically selected three of the most popular varieties to feature in the samplers. There's something for everyone."
About two leaves and a bud tea co.
Two leaves and a bud tea company (http://www.twoleavesandabud.com) is a tea company based in Basalt, Colorado, specializing in whole leaf, craft tea. The company was founded in 2005 by Richard Rosenfeld, an entrepreneur who traveled the world for business, only to become frustrated at being able to find a quality cuppa' tea at home. Two leaves and a bud travels to tea gardens around the world to interact with farmers, taste the best they have to offer, and provide premium tea that tastes like it was plucked and steeped directly at the gardens. The company is named for the essence of great tea — the top two leaves and a bud of the tea plant, Camellia sinensis. For more information about the tea company and their variety of black, green, white, and herbal teas, visit http://www.twoleavesandabud.com.
###