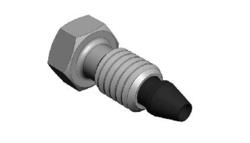 Revolutionary one-piece design means no more dropped ferrules!
(PRWEB) January 30, 2012
New Upchurch Scientific Very High Pressure (VHP) fittings for UHPLC applications incorporate a patent-pending design that allows the fitting system to be used up-to ten assembly cycles with no impact on pressure holding ability or carryover.
The VHP one-piece fittings offer an increased ability to withstand the demanding requirements of today's Ultra-High Performance Liquid Chromatography (UHPLC) instruments, where system pressures can reach (and sometimes exceed) 15,000 psi (1,034 bar). This robust line of products effectively handles system stresses due to the elevated pressures, and offers a selection of options for different applications.
The one-piece design--where the ferrule is permanently attached to the nut--simplifies installation (no "dropped" ferrule), improves efficiency of changeovers and results in reduced system downtime. The proprietary PEEKTM polymer-blend ferrule assures biocompatibility and prevents damage to the tubing or the receiving port. An expanded line of new tightening tools for achieving optimal torque is also available.
Available in several configurations (not sure if this is the right word), VHP-320 is designed for use in constricted spaces; VHP-325 can be used with virtually any UHPLC receiving port that accepts 1/16" diameter tubing; and VHP-920 is designed for use with 1/32" OD tubing in valves and accessories that accept the M4 x 0.7 thread. All three fittings are designed to prevent dead volume, and require low torque to fully tighten, which helps eliminate galling and port damage. In addition, VHP one-piece fittings have excellent performance at elevated temperatures (up to 100 ºC).
Upchurch Scientific is a brand of IDEX Health & Science LLC. IDEX Health & Science designs, develops, and manufactures liquid subassemblies and precision components for a wide range of applications requiring precise control and measurement. Specializing in component integration that results in innovative and optimized OEM fluidic systems, IDEX Health & Science is the synthesis of leading component and technology suppliers to the Analytical Instrument, In Vitro Diagnostics, and Biotechnology markets. Other IDEX Health & Science brands include Eastern Plastics, Innovadyne, Ismatec, Isolation Technologies, Rheodyne, Sapphire Engineering, and Systec. For more information, visit our website.
# # #