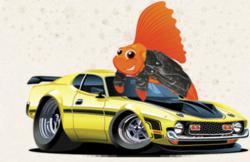 It is horrifying to me that people are despicable enough to steal someone's personal information for their own gain, but it does happen.
Washington, D.C. (PRWEB) January 27, 2012
RoadFish.com men's lifestyle and finance magazine released their top tips for protecting against identity theft which can wreak havoc on personal finances and future finance endeavors. RoadFish's advice comes after the news that early filers tax refunds will be will delayed due to the implementation of anti-cyberfraud measures by the Internal Revenue Service (IRS). According to the Bureau of Justice Statistics, "An estimated 8.6 million households had at least one person age 12 or older who experienced identity theft victimization in 2010. This was an increase from the 6.4 million households victimized in 2005." That is an approximate 33% increase in identity theft.
The advice provided by RoadFish contains useful tips such as keeping a watchful eye on all bank and credit accounts. They suggest reviewing your accounts on a regular basis, obtaining a credit report once a year, contacting credit bureaus to correct incorrect information, only making online purchases through secure checkout, shredding documents with personally identificable information such as account numbers and addresses, as well as refusing to give out your social security number unless required for tax or benefit purposes.
Susan Tompor of the Detroit Free Press wrote, "The IRS told tax professionals in an IRS alert Thursday afternoon that the one-week delay for some refunds relates to fine-tuning IRS systems to adjust for new safeguards put in place this tax season to provide stronger protection against refund fraud....The safeguards relate to growing concerns about cyberfraud and crooks who are obtaining refunds by stealing Social Security numbers, creating fake returns, filing 1040s electronically early in the season and obtaining tax refunds."
RoadFish's editor is quoted as saying, "Now I get that it can be annoying that your tax return is a whole week late, but honestly, if that is the price to pay to have the IRS on point to catch fraudulent tax returns with stolen social security numbers then that is a small price. It is horrifying to me that people are despicable enough to steal someone's personal information for their own gain, but it does happen. With identity theft on the rise, spreading the word on simple actions that can be taken to minimize the risk of someone muddying your credit report or taking over your life seemed right."
As RoadFish released their tips, NJToday.net released a story about 2 people in Middlesex County that were charged with filing false federal income tax returns.
NJToday.net stated, "According to documents filed in this case: Both defendants are charged with preparing with co-conspirators false tax returns in the name of another person. The returns included an address that did not correspond with the actual address of the person whose name and Social Security number was used on the fraudulent return; false statements about income; false W-2 forms from employers who did not employ the person named on the return; false information about income tax withholding, and false claims for refunds."
Hopefully, RoadFish's tips will help unsuspecting Americans to guard their personal and financial information in light of this real issue.
About RoadFish.com
RoadFish.com is an online men's lifestyle and finance magazine targeted toward men in their 30's and 40's that have already attained a moderate level of success in life, and are striving toward more. It goes over current events of interest to this group, such things as exciting adventures, consumer interests, financial health as well as ways to make more and save more money. It is a publication owned by Purpose Inc.
###