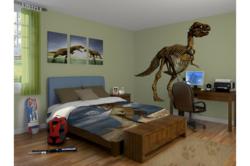 "When a customer needs that special wall art piece, it is nice to also get that perfect size, and have all the choices available in one place." Justin
Pierre, SD (PRWEB) January 31, 2012
VisionBedding has announced its release of a new custom sized wall art line for kid's bedrooms. When taking into consideration the vast amounts of bedding options available, this is now a true one-stop-shop for parents as they put the finishing touches on their children's bedrooms. Best of all, since it is Internet based, they are able to sit down with their children and allow them to easily browse through the different choices until they find the perfect combination of bedding, flooring and now custom sized wall art.
Shopping for bedding and accents can be difficult when a parent has to have a kid in tow all day. They may be interested at first, but when they have to visit multiple stores, kids can get a bit antsy and parents often merely settle for items with which they are not truly happy. They now have an option that is available online, and offers them everything they need including the custom size to fit their specific spot on the wall.
Once a child's bedroom is painted and the furniture is delivered, the final touch is usually the bedding and some type of wall art. This ranges anywhere from simple posters to wall decals to create some type of backdrop or scenery up on the wall. The trick is often in finding the proper bedding to go with the wall art. Being able to shop for everything in one spot ensures the parents that they do not have to make a final purchase until they are sure everything they have chosen is complementary.
Company representative, Justin Poile, was asked why custom sized wall art was added to a company that is known for its custom photo bedding. He responded, "VisionBedding offers one of the largest selections of custom bedding available on the Internet today. However, we wanted our wall art selection to be as custom, so we added the ability to allow customers to choose their own sizing on our wall art choices. This inspired us to develop what we think is the most significant collection of customizable wall art available online, as we have over 15 million design choices available. This allows parents to add that final touch to make a complete and finished look to the room. When a customer needs that special piece, it is nice to also get that perfect size, and have all the choices available in one place."
In addition to the vast selection of merchandise available, parents can also customize the wall art colors to make it completely unique. Whether they are adding their own picture or the child's name, it will make the wall art stand out against anything else available on the market today. With such a vast collection of wall art from which to choose, it is all but guaranteed that their child will have a room that they can truly call their own.
About: VisionBedding is an online bed and bath linen company specializing in custom photo linens. The company offers millions of designs for home decor, everything from window and shower curtains, to flooring, wall art, as well as adult to toddler bed linens. In addition the wall art can be custom sized. The company is also able to personalize any design with a customer's own text, logo and color.
Contact: Justin Poile
Phone: 605-222-7978
Address: 610 S. Roosevelt, Pierre, SD, 57501
Email: special(at)visionbedding(dot)com
Website: http://www.visionbedding.com/WallArt/Kids.php
###