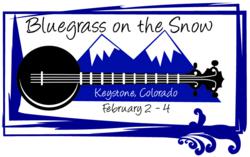 Don't miss this fun event, a weekend filled with amazing live bluegrass music and fresh powder on the slopes!
Keystone, Colorado (PRWEB) January 28, 2012
Keystone Resort is hosting the first ever 'Bluegrass on the Snow' winter music festival next weekend, February 2-4, 2012. It will feature music performed live by Willy Porter and the Mealies, The Pine Beatles, The Haunted Windchimes, and Finnders and Youngberg, in addition to many other acts.
Festival goers may choose to pay a daily entrance fee or purchase a 3-day pass to enjoy music throughout the weekend. Parking is free in the Montezuma Lot, which is just a short walk from River Run Village where Warren Station is located. No pets are allowed at the event.
The Bluegrass on the Snow Festival is one of many music festivals held at Keystone Resort throughout the year. Keystone is probably most well-known for it's summer bluegrass festival, 'Bluegrass and Beer', which features live Bluegrass Bands and local and regional Breweries for a weekend of fun, tasty brews and twangy tunes. Another popular concert series is 'River Run Rocks!', which is held four times a year throughout the ski season. River Run Rocks! has previously featured acts like 10,000 Maniacs, Robert Earl Keen, Girl Talk, and Seven Mary Three. The next River Run Rocks! Concert will be held on February 21, 2012 with a special Mardi Gras Theme, with The New Orleans Suspects headlining. All of the concerts in the series are free of charge and held outdoors in the River Run Plaza area at Keystone Resort.
SummitCove.com Vacation Lodging provides affordable luxury vacation rentals throughout Keystone Resort. Book a property in River Run Village to be in the heart of the action and even watch some of the live music events from your private balcony! SummitCove.com is excited to offer 25% off 2 nights or more over the Bluegrass on the Snow weekend! With over 290 properties to choose from, guests are sure to find exactly what they are looking for, whether it be a private hot tub, fireplace, a dream kitchen or a gigantic flat screen television! SummitCove guests also receive numerous deals and discounts from our preferred business partners with the exclusive Key to Keystone Coupon Book!
With 13 inches of fresh powder and more in the forecast, a fun winter bluegrass music festival, the NFL Super Bowl 46, and more powder runs than you can keep track of, you won't want to miss out on the fun next weekend in Keystone, Colorado!
###