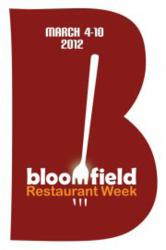 twenty-four participating restaurants will offer special prix fixe menus for lunch at no more than $15 and for dinner at no more than $30 (food only)
Bloomfield, NJ (PRWEB) January 31, 2012
The township of Bloomfield, N.J. is filled with dozens of eclectic restaurants. During the week of March 4, 2012, Bloomfield residents and those of neighboring municipalities are invited to check out many eateries they might not know about—yet—during the town's first Bloomfield Restaurant Week.
The idea took shape at a recent town council meeting, said councilman Michael Venezia, and the local restaurants embraced it quickly.
"There have been many other successful restaurant weeks in surrounding areas and with all of Bloomfield's great restaurants, we thought this would be a home run," said Venezia. "The goal is to promote our small-business owners who might do strong business on the weekends but would benefit from a boost during the week." He said that the town council and planning committee see the potential for this to be a great event that drives business to Bloomfield.
Bloomfield's Restaurant Week will run from Sunday, March 4 through Saturday, March 10. The twenty-four participating restaurants will offer special prix-fixe menus for lunch at no more than $15 and for dinner at no more than $30 (food only). Venezia said the participants represent about 80% of Bloomfield's sit-down restaurants.
Restaurant Week is being promoted on a website,BloomfieldRestaurantWeek.com, Facebook, and Twitter. Venezia hopes that the event will encourage Bloomfield residents to stay in town when they want to dine out, or that people who work in Bloomfield will try one of the participating restaurants for lunch and return at a later date for dinner with their friends or families.
"Many people go to Montclair or West Orange to eat out but there are so many great places right here that they might not be aware of," noted Venezia. "The event committee hopes that Restaurant Week will also draw residents from our bordering municipalities to try Bloomfield's eateries." The Essex County town of 48,000 people borders Montclair, Nutley, Glen Ridge, Belleville, Clifton, East Orange and Newark.
The Restaurant Week committee is comprised of three town residents and three restaurant owners including Andreas Quesada-Cascante, owner of Señoritas Mexican Grill.
"Bloomfield has a huge dining market, surrounded by a lot of large towns," said Quesada-Cascante. "It is surprising to many people that there are so many restaurants here. We have a lot of 'mom and pop' establishments that have been in Bloomfield a long time and are popular with town residents, but outside of Bloomfield no one knows about them. We hope that after Restaurant Week, Bloomfield will become known as a dining destination." The varied cuisines served at Bloomfield restaurants include Thai, Japanese, Italian, French, Mexican, and Peruvian.
Quesada-Cascante solicited the help of chef Franceso Palmieri, owner-operator of The Orange Squirrel in Bloomfield. The two have been working closely together and eliciting input from other restaurant owners on the committee to provide the restaurateur's perspective to Restaurant Week. "I've wanted to do this since I opened in Bloomfield," said Palmieri. "We're making sure everything about the program is structured properly."
A pre-Restaurant Week launch party will be held at Orange Squirrel on Saturday, March 3 from 12:00 to 2:00 p.m. Restaurant Week's participating restaurant owners, sponsors, volunteers, council members, and agencies that helped bring the event to fruition will be honored. Members of the press and local officials will also be invited.
For details about Restaurant Week and a list of participating restaurants, send an e-mail to bloomfieldrestaurantweek(at)yahoo(dot)com or go to:

Twitter - @BloomfieldNJRW
###