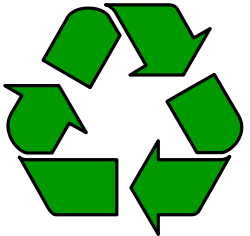 What was once a small fraction of the mats for sale on this website has grown into a large selection
Palos Park, IL (PRWEB) January 29, 2012
Adding to the ever popular woven entrance mats "Durite 108" and "Dura Rug 400" from Durable Corporation in Norwalk, Ohio are their new "Color Cushion Tiles", "Dura Tread" and "Carpet Tile Pin". Durite and Dura Rug recycled tire mats are made from pieces that are woven onto galvanized steel rods in either of two different patterns. Color Cushion Tiles are a remarkable new product made from recycled PVC that combine shape retention under the weight of a person with a surface that is comfortable on bare feet. This mat is interlocking so it has become a favorite on the site for customers looking to outfit their public shower areas.
Another of their suppliers, The Andersen Co. has actually replaced several of their formerly nylon entrance mats and runners with surfaces made of recycled drink bottles (A.k.a. post-consumer PET fiber). Their Waterhog door mats have been remodeled to incorporate the new top material while all of their mats remain backed in rubber that contains 20% recycled tires. One of the new mats available from Andersen called "Enviro Plus" contains a hefty 89% recycled content! An impressive 76% of which is post-consumer. Many customers prefer Andersen's rubber mat backing as it is more grippy and flexible; the new recycled tops are an added bonus. A great feature of many of the recycled content mats they offer is the Recycle symbol is featured prominently on the mat surface. Customers have responded enthusiastically to this feature as it communicates to all their building entrants their commitment to the environment.
Champion Manufacturing recently began supplying MattingExperts.com with new matting products on demand. They are all made from recycled bias ply tires. Even though the website sells quite a bit of their smooth masticated commercial rubber matting to all kinds of customers, Champion is always willing to work with MattingExperts in product development. A recent example was a customer that needed a magnetic mat for removing metal from workers' shoes and boots. Champion was able to develop just such a mat using two thin sheets of recycled tire matting sandwiched around a large magnet.
MattingExperts.com has recently added a new selection of recycled material mats from yet another supplier, Rhino Commercial Mats & Matting. The "Tritan Floor Saver" mat, made of recycled tires, is gaining popularity among their tough/recycled fibers mat selection.
###