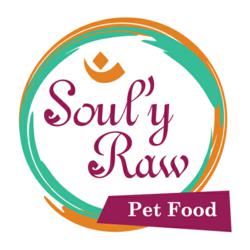 "This was a happy accident," says owner Lisa Ayotte, "our clients that had pets that struggled with this compulsion in some cases were too embarrassed to disclose the disorder when switching to our products."
San Marcos, CA (PRWEB) January 30, 2012
Soul'y Raw Pet Food is pleased to announce another wonderful benefit of feeding your pet a wholesome and nutritionally balanced raw diet. Coprophagia, eating their own waste, is an embarrassing condition for pet owners that studies show to be a result of various causes. This condition could be caused by poor diet, boredom, instinctive behavior or in some cases suffering from an illness that should be ruled out by your Veterinarian. Most of the treatments on the market for this compulsion include using supplements for all the dogs in the household as a deterrent for the unwanted behavior as well as using topical sprays on the waste to make the taste bitter and unpleasant. To humans, the taste of dog waste would be more than unpleasant; however, if a dog is eating a carbohydrate rich diet, their waste product actually is mostly undigested and appeals to some pooches. Another treatment is behavior modification training to both teach your dog to stay away from feces of any kind or by taste aversion conditioning and both of these should be administered by a professional.
The most common cause is usually a dog that is lacking a diet that provides him with sufficient vitamins and minerals to quell the desire to seek out other food sources to make up for the deficiency. Most reputable pet foods nowadays are chock full of supplements listed on the ingredients label to be compliant with AAFCO's daily nutritional requirements for dogs and cats. This guideline is to make sure your pet is receiving the daily recommended amount of vitamins and minerals; however, this doesn't guarantee that your pet's system is able to recognize or digest the additives and use them as intended.
Soul'y Raw Pet Food in San Marcos CA has noticed that the practice of dogs consuming their own feces or that of other dogs has all together stopped in their loveable following of furry friends when transitioned to their high quality raw food diet. One could say that this simple breakthrough in successfully deterring pets from seeking out feces as an alternative food source is just what the Doctor ordered.
The Soul'y Raw diet provides extraordinary nutrition, vitamins and minerals and your pets will not seek out any other sources of food to make up for previous vitamin and mineral deficiencies. You will actually feed your pet LESS food than a commercial diet as their systems were designed to assimilate and metabolize all the vitamins and minerals in a raw diet.
Soul'y Raw Pet Food does not chemically alter any of our ingredients by cooking or any other manufacturing process. Research has shown that most pet food allergies are derived from denaturing the ingredients and their bodies are not able to recognize them as a protein and their bodies will try to fight off the foreign body which creates the chronic allergic reactions.
Please visit their website for more information about keeping your pet healthy, FAQ's about feeding Raw and how to transition your pets to a 100% Raw Food diet.
Their food is handmade and blended fresh daily. It is made of 95% muscle meat, organs, crushed bone and marrow. 5% is comprised of antioxidant rich vegetables and fruit to increase the Vitamin quotient required to keep your pet at their optimal weight, health and overall happiness which translates into a better quality of life for both you and your pets.
Lisa Ayotte, Founder lisa(at)soulyraw(dot)com Soul'y Raw Pet Food 1261 Linda Vista Drive San Marcos CA 92078
http://www.soulyraw.com
# # #