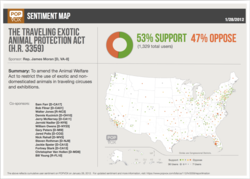 Washington, DC (PRWEB) January 28, 2012
The Traveling Exotic Animal Protection Act (H.R. 3359) -- pitting animal rights advocates against those who work with animals in traveling shows -- garnered the most messages to Congress this past week on POPVOX.
The week before, record-breaking internet advocacy efforts and website blackouts brought over 10,000 people to oppose the Stop Online Piracy Act (SOPA) using POPVOX. While H.R. 3359 moved fewer people than SOPA, its opponents and proponents demonstrated similar passion.
From January 20 to January 27, almost 700 people weighed in on the Traveling Exotic Animal Protection Act, 54% in support, 46% in opposition. While messages came in from constituents in every state and nearly every Congressional district, the most active was that of Vern Buchanan (R, FL-13), with thirty-six people weighing in (14% supported and 86% opposed) from Florida's 13th district.
The bill is pending in the House Agriculture Committee, chaired by Representative Frank Lucas (R, OK-3). Three constituents from Mr. Lucas' district opposed the bill. None weighed in from the district of Ag Committee Ranking Member Collin Peterson (D-MN, 7).
The Top Five Trending Bills on POPVOX for the week of January 20 are:
H.R. 3359: Traveling Exotic Animal Protection Act from Rep. James Moran [D, VA-8].
1330 TOTAL, 678 for the week (53% support, 47% oppose)
H.R. 3814: To prohibit the Department of Justice from tracking and cataloguing the purchases of multiple rifles and shotguns, from Rep. Justin Amash [R, MI-3].
595 TOTAL, 571 for the week (75% support, 47% oppose)
H.R. 3594: Second Amendment Protection Act of 2011, from Rep. Joe Walsh [R, IL-8].
611 TOTAL, 596 for the week (89% support, 11% oppose)
S. 1973: A bill to prevent gun trafficking in the United States, from Sen. Kirsten Gillibrand [D, NY].
421 TOTAL, 400 for the week(29% support, 71% oppose)
H.R. 3261: Stop Online Piracy Act from Rep. Lamar Smith [R, TX-21]
14,720 TOTAL, 383 for the week (3% support, 97% oppose)
About POPVOX
POPVOX is a neutral, nonpartisan advocacy platform that meshes legislative data with individuals' personal stories and sentiment. POPVOX delivers public input to Congress in a format tailored to actionable policy decisions and empowers users to leverage their expertise and numbers.
For more information, visit: http://www.popvox.com.
# # #