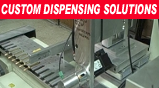 ...one of the most efficient dispensing and curing machines on the market today.
Sanford, FL (PRWEB) January 31, 2012
Hernon Manufacturing, the innovator in adhesive and sealing technologies, attended the National Shooting Sports Foundation (NSSF) Shot Show at the Sands Expo Convention Center in Las Vegas, NV earlier this month. Having forged new relationships for potential business and introduced its new Autosealer 5500 sealant dispensing and UV curing system to numerous current and future customers, Heron's attendance was declared a success.
"The Shot Show was undeniably a huge success for Hernon," said Neil Murray, Marketing Manager for Hernon Manufacturing. "With an overall attendance record of more than 61,000, it presented an exciting opportunity to network with other industry professionals, potential customers and meet with our existing customers to discuss our new sealant dispensing and curing system."
The largest trade show of its kind in the world and the fifth largest trade show in Las Vegas, the Shooting, Hunting, Outdoor Trade Show (SHOT Show) and Conference is the most comprehensive trade show for all professionals involved with the shooting sports, hunting and law enforcement industries. It is the world's premier exposition of combined firearms, ammunition, law enforcement, cutlery, outdoor apparel, optics and related products and services.
During the show, representatives from Hernon Manufacturing introduced the Autosealer 5500, an ammunition sealant dispensing and UV curing system. This custom dispensing machine is capable of sealing various calibers of assembled pistol, rifle, and blank ammunition on a single machine. In 15 minutes or less, the conveyor belt can be easily changed to accommodate the different calibers. In a simultaneous process, the Auto Sealer applies projectile and primer sealant, performs vision systems inspections and UV curing. More than 200 rounds per minute can be processed.
"Our custom dispensing equipment is engineered to reduce production costs and save time, while increasing the accuracy and quality of the finished products," said Edgardo Rodriguez, Director of Sales and Marketing for Hernon Manufacturing. "It is one of the most efficient dispensing and curing machines on the market today."
The company has been in business for more than 30 years and offers solutions to recognized international companies in applications such as automotive, electrical, electronics, communication, aerospace, appliances, military ammunition, power generation and transportation. These technologies include anaerobic, cyanoacrylate, epoxies, acrylics, methacrylates, U.V. visible cure including customized technologies and many more.
In addition to custom and standard dispensing and curing equipment, Hernon Manufacturing produces and distributes an extensive line of sealants for military and commercial use. Hernon produces eight Mil-Spec qualified sealants and is an ISO-9001: 2008 registered company.
# # #