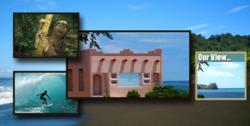 We pride ourselves in not overstating. We have been told we understate the quality of construction, views, and amenities of these Costa Rica lots and properties dramatically. Our closing rate is 90%. - Mike Larski, Bajamar Hills Costa Rica Developer
Bajamar Hills, Costa Rica (PRWEB) January 29, 2012
Imagine… Costa Rica ocean view property or homes in a master planned development, for personal use or investment, with prices starting at $39K, low down payments, and owner financing at a super low fixed interest rate of 7%. Sound hard to believe? An established and respected Development Company has launched the next phase of their Costa Rica Ocean View Lot and Home project "Bajamar Hills"" that offers all of this and more.
The early beginnings of this 81 lot community actually began over 15 years ago. In recent years, with minimal marketing effort, 50% of the first available lots were sold. In many cases, home buyers bought more than 1 lot – one for themselves and another as a Costa Rica vacation home or Costa Rica investment property.
The Bajamar Hills team believes it is their "understatement and over-delivery" of Bajamar Hills that has helped this development be so successful to date. The Developers also add very little markup and commit to keeping costs as low as possible so they can pass this savings to the customer.
The current phase of the Bajamar Hills is breathtaking with its quality construction and amazing ocean views. The community also has luxury amenities has a pool, pitch-and-putt golf, and as horseback riding and four-wheeling areas. All of this is managed by a home owners association (HOA) for just a few dollars a month.
The Developers expect Bajamar Hills Costa Rica to be one of their most successful ventures to date. Says Mike:
"Like any other home purchase, your investment should have a solid foundation. Don't let others fool you. This is all available at very low cost. We feel that treating every customer right and dealing with their individual needs as far as monthly payment, down payment, building or investing. Doing this right is our best source of advertising. Our pre-approved, in-house financing is all arranged over a cup a coffee and then cast in stone. We WANT You Here… We WANT You to Be Our Neighbor. We enjoy this project and seeing new buyers coming in is a reminder of the first day we walked through the gates. Although it was very raw then, we could see exactly what we wanted and what we needed to do. And we did it."
If you have ever considered living in Costa Rica - or purchasing investment property in Costa Rica - Bajamar Hills offers a unique opportunity. With the available ocean views, quality construction, modern amenities, extremely low prices, minimal down payment, and 7% fixed owner financing, it is really a hard deal to beat.
To learn more about the Bajamar Hills Development, visit the Bajamar Hills website at http://www.BajamarHills.com.
For more information about buying or investing in Bajamar Hills Costa Rica ocean-view lots or homes, and how you can purchase your Costa Rica ocean-view lot or home with a low down payment and owner financing at 7% fixed interest, contact Sales and Marketing Director Kathy Lynn at kathylynn_bajamarhillscr(at)yahoo(dot)com or call Kathy at (US) 850-502-2245 or (Costa Rica) 506-8976-4856 or 506-8743-4311.
# # #