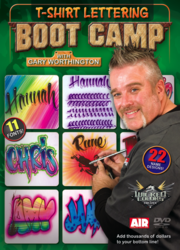 Name designs will add, literally, thousands of dollars to your bottom line annually
Wall, New Jersey (PRWEB) January 31, 2012
Spare your teen child the drudgery and pain of working at a fast food joint, restaurant, or other dreaded summer job by turning them on to the lucrative field of airbrushing. Airbrush Action magazine has just released T-Shirt Lettering Boot Camp (120 minutes) and Stylized Thruster: Hydro Shock (125 minutes) two step-by-step DVDs.
T-Shirt Lettering Boot Camp, with airbrush master Gary Worthington, features the step-by-step demonstration and instruction of seven popular fonts and their alphabets (script, block, bubble, print, old English, graffiti, and scratch), and the painting of 20 names in various forms, colors, and designs. Worthington, one of the world's best T-shirt artists and a head instructor at the Airbrush Getaway workshop program, teaches airbrush proficiency, color combinations and theory, gender-oriented designs, how to determine and develop designs that sell, pricing guidelines, stencil use, the best paint, and much more.
"Lettering is the bread and butter of the profession of T-shirt airbrushing," explained Worthington, "and if you master this aspect of the business you'll add, literally, thousands of dollars to your bottom line annually. And kids can set up a T-shirt operation at flea markets, fairs, street festivals, or work at local amusement parks and boardwalks. The start-up cost can be as low as $500!"
Stylized Thruster: Hydro Shock, starring airbrush pro Eddie Davis, instructs on how to paint a surfboard. Adding just another cool way to earn summer cash, you'll learn surface prep, how to transfer artwork to the surface, use of 3D modeling for reference, design and layout, advanced use of freehand shields, use of top- and bottom-feed airbrushes, how to employ improvised items to create special effects, use of an electric eraser for highlighting, how to clear your "stick," use of multiple images to create a theme, masking with R Tape, and tons more.
Stylized Thruster and T-Shirt Lettering Boot Camp, both $29.95, are available through Airbrush Action magazine (http://www.airbrushaction.com) and select art stores. It is recommended that beginners watch the DVD, Airbrush Mastery with Terry Hill, also from Airbrush Action.
With more than 100 titles, Airbrush Action magazine, established in 1985, is the largest producer of instructional DVDs on airbrushing and other subjects. Most titles are now available on demand through the recently launched Airbrush.TV.
###