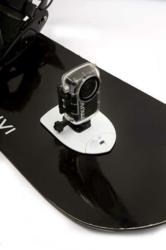 By adding many more mounting features, there will be virtually no limit on how they can be used. We're really excited by the possibilities
Malvern. PA (PRWEB) January 31, 2012
SportHiTech, a leading supplier of wearable HD video camera technology to the sporting, automotive, corporate, military and government sectors, announced today that it is collaborating with Veho, an innovative global designer and manufacturer of wearable HD video cameras such as the Veho Muvi HD to introduce a wide range of new mounting options for the Veho Muvi HD to the US market.
"The Veho Muvi HD represents an unbeatable value proposition and is gaining a strong following in North America" said Sam Pearce, VP of Marketing for SportHiTech. "Veho's new range of mounting solutions extends the flexibility of the Muvi HD system, and we will be working closely with Veho to introduce these new products to a broader audience in the USA".
The Veho Muvi HD is an ultra-lightweight and wearable video camera that records in full 1080p HD video and has a slew of unique features such as an RF remote control and a built in LCD display as a viewfinder and for playback, as well as configuring camera settings.
"At street prices of under $150.00, there's nothing on the market comparable to the Muvi HD" says Pearce. "By adding many more mounting features, there will be virtually no limit on how they can be used. We're really excited by the possibilities" He continued: "The upcoming Veho No Proof No Glory website ( http://www.noproofnoglory.com) will feature many of these products in actual use."
The new range of mounts includes windshield, pole, bar, helmet and board mounts among others. See http://www.sporthitech.com/brands/Veho.html or email sales(at)sporthitech(dot)com for more information.
###