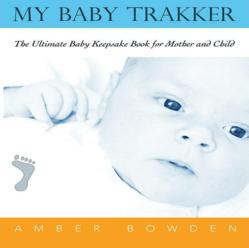 My Baby Trakker brings simple solutions for any mother-to-be by offering a combination medical record-photo memory insert and a lifetime keepsake journal so the special time can be shared with their child when they get older.
(PRWEB) January 30, 2012
Introducing My Baby Trakker, a new baby book publication that contains everything to monitor the mother and child's health and well-being, progression and development whether she is anticipating or about to be a new mother. Becoming a mom is a new and exciting experience, My Baby Trakker is designed to take the guess work out of family medical histories, making and maintaining appointments, tracking and monitoring prenatal – labor and delivery-and postnatal healthcare; monitoring the nutrition of the mother, and any questions she will have throughout her pregnancy.
"I couldn't help but feel there had to be an easier way to manage mother and baby's record keeping," said Author Amber Bowden. My Baby Trakker has it all. It starts with tracking pre-natal care, and goes on to document and monitor labor and delivery, then continues on tracking post-natal healthcare, past/current medical history, vaccinations, baby milestones, growth and development up to age of five for the child. Everything the mother-to-be would need, all in one baby keepsake book.
This complete Baby Book makes a terrific gift for any expectant mother not to mention a great keepsake for the child later on in years. In an interview with Author Amber Bowden, she stated, "So many times my son asked me questions such as… How old was I when I could sit up? What were my first words? What age did I learn to walk? With My Baby Trakker all the answers are right at the mother's fingertips." The Milestones Section lists common skills as well as fine motor skills from 1 month old all the way through 5 years old. There are pages to insert photos and a keepsake journal to record baby's first kick, midnight cravings, and all those special moments the mother would never want to forget, so she can share them later with their child when they get older. "This is a much needed baby book for any new parent," said Author Amber Bowden.
My Baby Trakker is available for purchase exclusively online at MedTrakker, Amazon, Barnes and Noble and other popular online book retailers.
For Media: Amber Bowden is available for speaking, events, book signings and expert quotes.
Amber Bowden can be reached at http://www.linkedin.com/in/medtrakker for further questions regarding My Baby Trakker, and Twitter at http://twitter.com/medtrakker
and also on her Facebook business page http://www.facebook.com/MedTrakker
###