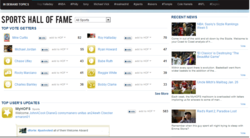 MyHOFS is a fun and interactive way for sports fans to discuss sports with others in an environment completely dedicated to sports enthusiasts
Philadelphia, PA (PRWEB) January 30, 2012
D2 Enterprises, LLC is pleased to announce the launch of My Hall of Fame Site (MyHOFS.com); the sports social network that gives sports fans' a voice online. The site is completely free and offers unique sports related news & opinion content as well as a customized social media platform. This social network allows members to vote for their favorite athletes, create their own hall of fame, create polls, and discuss sports with others in an environment completely dedicated to sports enthusiasts.
MyHOFS.com covers 12 sports: Baseball, Professional and College Basketball, Boxing, Professional and College Football, Golf, Hockey, MMA, Motorsports, Soccer, and Tennis. In addition, the site offers a great platform for colleges, high schools and casual sports leagues to create their own halls of fame and discussion groups. Each sport also features a hall of fame where voting for athletes is calculated in real-time and displayed on the top Hall of Fame vote-getters.
MyHOFS.com offers unique content which focuses on current events in sports as well as great performances, athletes, and teams. Editor Michael Calabrese has put together a spectacular team of writers who cover sports topics from a fan's point of view. Members are also able to interact with the writers to continue the discussion. The site's articles are often featured on thebiglead.com; Fantasy Sports Ventures' flagship sports website.
D2 Enterprises, LLC was founded after Dennis Forte heard a caller to WIP Sports Radio explain that he had his own Hall of Fame in his basement and held induction ceremonies. Dennis thought it would be fun to give the fans a vote in the hall of fame process online. Working with partner David Kline, D2Enterprises worked with a group of talented web designers to develop the site's look, functionality, and ultimately the fully functioning site. Beta testing began in April of 2011 and membership has steadily grown since opening to the public in September, 2011. MyHOFS.com is now ready to give all sports fans a vote that counts.
###