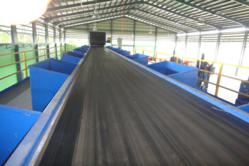 San Fernando, Philippines (PRWEB) January 28, 2012
The much-awaited green energy giant, True Green Energy Group announced today in San Fernando Pampanga along with CJ Consortium, and channel 2 ABS-CBN latest Philippine breaking news, along with TV 36 ACQ-Kingdom Broadcasting Network all witnessed and reported about the inauguration of the MRF facility and pelletizing operation that will now solve the closure of many landfill sites in the Philippines, not to mention the gargantuan profit center for both the city of San Fernando, Spectrum blue steel pioneer shareholders, and True Green Energy group, ISIN number CA8724191066, Cusip number 872419106 trading on Deutsche Boerse AG under the stock symbol TGG.F, TGEG.
The consumption habits of modern consumer lifestyles are causing a huge worldwide waste problem. Having overfilled local landfill capacities, many first world nations are now exporting their refuse to third world countries. This is having a devastating impact on ecosystems and cultures throughout the world. TGEG alternative bio green energy plant has utilized different technologies to recycle waste by generating electricity from landfill waste. Pelletizing is the first step that solves the issue of dangerous landfill sites by reusing and recycling and getting rid of the contamination.
The process of manufacturing fuel pellets involves placing ground biomass under high pressure and forcing it through a round or square opening called a "die." When exposed to the appropriate conditions, the biomass "fuses" together, forming a solid mass. This process is known as "extrusion.
The pellets made from the inbound garbage at San Fernando will be sold in 18-kilogram bags, which will be filled using an overhead hopper and conveyor belt arrangement. The TGEG bags will be clearly labeled with the type of pellet, their grade (i.e., premium or standard), and their heat content. 1 ton of biomass pellets made by True Green Energy Group will be sold for approximately $165. For every 1 ton produced. The landfill site in San Fernando is estimated to pelletize between 300 to 1000 tons per day.
Pelletizing is a way to make use of raw garbage that would otherwise pollute the air and Poison the water table. Pellets like these replace fossil fuels, thus cutting greenhouse gas emissions. Pellets are easier to store because they are uniform in size and composition. They are much cleaner to handle than charcoal or coal, and produce less local air pollution.
Pellets and Briquettes have been used as fuel for many years in Europe and the USA, mainly on remote farms. Since 2000, there has been a rapid increase in the production and use of pellets, particularly in Sweden, Germany and Austria, because they can be used in automated boilers for space heating. An estimated five million tonnes of biomass pellets were used in Europe in 2010, some which had to be imported from North America. Even in the UK, the demand and supply of pellets is increasing.
Since the 1990s, Pelletizing and briquetting plants have been manufactured in both India and China. A 2007 estimate suggested about 250 operating plants in India, producing approximately 750 million tonnes of pellets per year. The demand for pellets has increased so much that there is not really enough supply to meet the demand. The main uses for pellets are boilers, fireplaces for heating private houses, gasification systems, power plants, systems of combined heat and power to heat energy, coal plants, and Industrial ovens such as kilns.
Ronald Flynn, Founder and Chairman of TGEG said, "There is plenty of garbage on this planet; in fact there is so much garbage that many developed countries are trying to dump their garbage on the lands of lesser developed countries, at a fee of course. But does dumping garbage on other places solve the problem? On the contrary it spreads pollutions and diseases that have hurt planet earth and future generations."
The Chief Executive Officer of TGEG, Renato W. Lee III said, "True green energy pellets burn like coal, but without the harmful side effects of carbon dioxide. With great technology such as this we can truly make a difference in the world and not only reduce the trash already out there but turn it into fuel and energy."
TGEG (True Green Energy Group) and SBSC (Spectrum Blue Steel Corporation) were both founded by Chairman Mr. Ronald Flynn and started specifically on June 30, 2008, and March 11 2009. The Corporate Headquarter is located at Bertha Phil, Office Center No. 06l and M Bertha Phil III Clark Center Jose Abad Santos Avenue, Clark Freeport Zone Clark field, Pampanga Philippines. TGEG has been implementing new state of the art technologies and upright integrated BIO mass systems since it started with the goal of achieving a ZERO WASTE society.
TGEG endeavors to build a better world by making true changes in energy and proper waste management in the process of helping save our environment. True Green Energy Group is committed to its highest standards of excellence providing clean green energy; carbon offset solutions and efficient waste management.
The company has major business models: residential electricity, commercial electricity, cleaning of landfills, by-products from garbage, and carbon offsets. Today, TGEG landfills are technological marvels and will become a dependable source of true green energy and waste management solution for all businesses, provinces and municipalities.
Amazingly, consuming the stored energy from garbage is free because people don't want it and can't wait for it to be taken away. Today, TGEG has millions and millions of metric tons of this garbage, while the world has billions of metric tons in reserve buried in landfills all over the planet just waiting to be harvested by the TGEG team.
The TGEG organization has created a leadership forum across all renewable energy sectors, building a greatest source of common purpose, developing a better understanding about renewable energy issues and waste management issues, initiating national and international outreaches about going green and the benefits of deploying the Bio Green Power Plant that takes garbage of almost any kind and creates clean green renewable energy.
TGEG can build a better future for our planet and a more sustainable way of life with the Bio Green system and new state of the art technologies supplemented by our engineers. TGEG will create a global community that will direct our leaders into making the right decisions. TGEG promises to help solve our environmental crisis while building one of the largest utilities company on the planet.
TGEG's venture toward almost zero waste society is close to its realization. Countries, states, cities, provinces and municipalities around the world have teamed up with TGEG in creating zero waste nations. The cleaner and greener our environment is, the healthier lifestyle we live, the healthier our world will be, for humankind as a whole, and for the future generations to come. TGEG will definitely continue turning our dream of a healthier Planet Earth into reality.
Ronald Flynn, founder and chairman of the board said, "With the combination of TGEG viable renewable energy resources and landfill sites, coupled with energy efficiency, conservation and smart grid development for low cost housing we could lead the world in energy independence and a cleaner, more sustainable energy infrastructure -- but also to what will soon prove to be the greatest investment opportunity of the 21st Century."
True Green Energy Group strategy is to "de-carbonize" the electric power generation industry by shifting to non-fossil fuel-based energy sources, specifically energy-from-waste. This follows the Energy Policy Act of 2005 and the Renewable Energy Law (RA 9513) of the Philippines that confirms energy-from-waste is renewable, and to build low cost housing for Filipino families.
This press release contains forward-looking information within the meaning of Section 27A of the Securities Act of the 1933 and Section 21E of the Securities Exchange Act of 1934, and is subject to the safe harbor created by those sections.
Contact: Ronald Flynn
Princeflynn(at)yahoo(dot)com
+639999989999
# # #