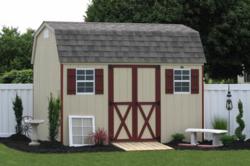 Sheds Unlimited even paid its employees while on call with the White Horse Ambulance
Lancaster, PA (PRWEB) January 29, 2012
Sheds Unlimited INC of Lancaster County Pennsylvania was denied a variance to expand its backyard storage sheds, outdoor storage buildings and prefab car garage manufacturing facility in Gap, PA. As the small family outdoor storage building corporation continues to expand and serve more customers in PA, NJ, NY, CT, MD, DE, VA, WV and beyond, the need for more space has reached a crucial point. The family owned business hoped to expand its custom shed building capacity by remodeling existing farm structures to accommodate the need for more space.
Expansion plans included raising the walls on the existing cow free-stall barn and converting the milking stable into an area to produce backyard sheds and one, two and three car prefabricated car garages. The second floor of the existing barn was then to be used as a storage facility for supplies. Rather than leaving the barn empty during these hard times which local farmers are experiencing, Sheds Unlimited hoped to use this existing structure to build outdoor storage buildings and continue contributing to the Salisbury Township economy.
At the meeting, owners of Sheds Unlimited INC stood to explain the details of their expansion plans. Township supervisors and neighbors listened as Stephen Stoltzfus Sr and Stephen Stoltzfus Jr offered their hopes for the proposed expansion. However, supervisors seemed reluctant to hear what other community members had to say and quickly closed the case to further comments, thus denying Sheds Unlimited the permission to use up existing structures on the Stoltzfus family farm.
Owners at Sheds Unlimited INC report that for the last fifteen years, workers at Sheds Unlimited INC have not only been busy in expanding their outdoor storage shed company. The Stoltzfus family and workers in the outdoor storage barn manufacturing facility have also been active in the local community while busy building prefab two car garages, backyard storage barns and more. Stephen Stoltzfus Sr. has been an active member in the Salisbury Township Fire Company #1 (White Horse Fire Company) for over thirty years. He reports that year after year he spent many long cold winter nights fighting house fires in the days when many homes were heated with wood.
All of his five sons followed his example at one time or another have been active members of the volunteer fire company which serves the local community. According to one Sheds Unlimited employee, at one time "Sheds Unlimited even paid its employees while on call with the White Horse Ambulance." And such was the case for several years when Sheds Unlimited actually paid employee wages while being on call or worked with the White Horse Ambulance to reimburse employee hours spent on calls. While Sheds Unlimited INC hopes to work out an expansion solution for their outdoor storage shed manufacturing facility in the vicinity in order to continue serving the community, other options outside the township may also be pursued in the future.
Sheds Unlimited began on the farm decades ago, but soon faced pressure from the town supervisors. The budding storage shed and prefab single car garage company was then moved to Honey Brook, PA where they set up in an old tobacco shed. Later Salisbury Township officials began to discover that area farmers are increasingly under financial pressure due to low milk prices. At this time they allowed local farmers to develop small "farm support" businesses to encourage farming and provide local jobs. That is when Sheds Unlimited returned to the family farm and set up an backyard storage shed facility.
Recent business has been good due to their robust outdoor home shed and prefab car garage sales through the Internet. Every year throughout the economic downturn, Sheds Unlimited continued to increase its sales and along with that hire more local employees. Now this growing Salisbury Township based business may have to consider moving out of town to facilitate its needs. What seems rather strange is that while higher government officials in the country are trying to create jobs, local officials seem more interested in limiting them.
For now, Sheds Unlimited INC will continue operating on the farm as they begin seeking further options for expansion.
###