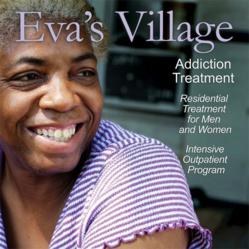 Paterson, NJ (PRWEB) January 30, 2012
Eva's Village (http://www.evasvillage.org), a 30-year New Jersey nonprofit, has established a commendable record in facing community challenges and providing positive outcomes in the lives of the hungry, homeless and addicted. In keeping with their comprehensive services model, Eva's Village was early to recognize the need to include services that address the unique needs of clients with co-occurring disorders (formerly referred to as "dual disorders") in their addiction treatment programs. When the Department of Human Services (DHS) Division of Mental Health and Addiction Services (DMHAS) issued a formal request for proposals to expand the delivery of integrated care specifically for drug court clients with co-occurring disorders, Eva's Village quickly submitted a proposal.
The New Jersey Drug Courts focus on substance abusing criminal offenders who are charged with non-violent offenses and who do not have prior convictions for violent crimes. These offenders are referred to closely supervised drug treatment programs, such as the Halfway House programs at Eva's Village where clients are provided a continuum of care including: addiction treatment, rehabilitation services, job readiness and life coping skills. Drug Courts operate under a well defined model that combines intensive judicial supervision, mandatory drug testing, escalating sanctions and treatment to help substance abusing offenders break the cycle of addiction and the crime that accompanies it. All 50 states have working Drug Courts owing to the fact that recidivism rates for offenders who have graduated from Drug Courts have been consistently proven to be lower than recidivism rates of offenders who did not take part in a Drug Court program.
"We recognize that if clients are going to succeed in their recovery, it is essential that a person suffering from both a substance abuse problem and a mental health disorder receive the proper diagnosis and treatment simultaneously," says Michael Santillo, Administrative Director of Clinical Services. "A truly comprehensive program addresses the multidimensional needs of the client utilizing a multidisciplinary clinical treatment team of addiction professionals."
The terminology used to describe people experiencing two or more disorders at the same time has long been referred to as dual disorder, or dual diagnosis. More recently, it has been recognized that someone being treated for addiction is very likely to suffer from a number of unrelated disorders and so the term dual disorder, meaning two disorders, was misleading. The term co-occurring disorders (COD) is now used by healthcare professionals when referring to the combination of substance use and one or more mental disorders. According to the publication Psychology Today, a diagnosis of co-occurring disorders occurs when at least one disorder of each type can be established independent of the other and is not simply a cluster of symptoms resulting from the one disorder.
Eva's Village has always been proactive in identifying and addressing the social service needs in their community and provides more than a dozen programs including Halfway House Treatment for men and women. Eva's provides 86 beds for men and 36 beds for women. In June 2010 this progressive New Jersey social service agency also began providing Halfway House treatment for Women with Children, accommodating 12 women and 28 children, which allows the family to heal together. Staffed by certified alcohol and drug counselors, Eva's Village offers a three-phase Recovery program for up to 12 months.
In 2009 The New Jersey Recovery Center at Eva's Village was opened on the Eva's Village campus as a peer run center providing services and support for individuals as they navigate through the difficulties of sustained long-term recovery. All of the programs provided at Eva's Village recognize that recovery is a long-term process that continues long after an individual leaves treatment, and so recovery support is essential in the continuum of care required for long-term success.
Founded by Msgr. Vincent E. Puma in 1982 as a response to the poor and homeless in Paterson, New Jersey, Eva's Village (http://www.evasvillage.org) is a non-profit comprehensive social service organization with a mission to feed the hungry, shelter the homeless, treat the addicted and provide medical and dental care to the poor with respect for the human dignity of each individual. Eva's Village has grown from a simple soup kitchen to become one of the most respected anti-poverty programs in the state of New Jersey and now includes fourteen integrated programs housed in numerous buildings spanning several city blocks in downtown Paterson.
To learn more about the addiction treatment programs at Eva's Village, the Recovery Center or to donate or volunteer, visit http://www.evasvillage.org.
###