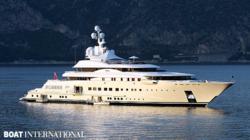 Last year's upswing in superyacht sales is encouraging for everyone involved in this multi-billion dollar industry
London, UK (PRWEB UK) 30 January 2012
The superyacht industry has been hit hard by the global financial crisis, but according to Boat International's 2011 Superyacht Market Report sales last year increased by 29% as buyers took advantage of aggressive price cuts by owners keen to sell.
264 superyachts (yachts with a length of 24 metres / 79 feet and above) were sold in 2011, including five that rank in Boat International's list of the 100 largest yachts in the world. Of these, the largest and most expensive was the 115 metre (337 feet) Pelorus, formerly owned by Roman Abramovich and now part of media mogul David Geffen's fleet of yachts. Often described as the most beautiful yacht in the world, her asking price was an estimated US$300 million.
The report includes comments from the principals of some of the world's leading superyacht brokerage houses, including Burgess, Edmiston & Company, Fraser Yachts and Ocean Independence, which reveal a number of trends, including: frequent and significant price cuts; an oversupply of fast yachts for sale; increasing interest in explorer yachts; buyer confidence affecting seasonal trends; the varying progress of the superyacht industry in emerging markets such as China, India and Brazil.
Tim Thomas, editor of Boat International, comments, "We track data from the global superyacht market on a daily basis to a level unparalleled in our sector. From this, we are well placed to analyse the state of the market."
"As our 2011 report shows, there is still some way to go to match the levels of activity seen prior to the global financial crisis, but last year's upswing in superyacht sales is encouraging for everyone involved in this multi-billion dollar industry."
To read the report in full visit http://www.boatinternational.com/2011report
About Boat International
Now in its 29th year of publication, Boat International is the world's leading superyacht magazine. Its website, boatinternational.com, is the number one online destination for superyachts for sale, featuring more than 950 of the finest luxury yachts listed by the world's top brokerage houses.
###