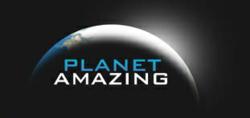 Planet Amazing has a new 24/7 online storefront at Amazon.com, featuring many of the Planet Amazing environmentally friendly and family friendly products.
Austin, Texas (PRWEB) January 28, 2012
Planet Amazing has a new online storefront, according to Justin Douglas, expert researcher for the company. Mr. Douglas says "Planet Amazing is committed to providing 100% environmentally friendly products, and now we have a new online store that anyone can access 24 hours a day and 7 days a week. The storefront at Amazon.com features many of the products that Planet Amazing has become known for. All products are non-toxic and have a money back guarantee, as well as solid customer support."
The company focus is to provide family-friendly, non-toxic solutions, Mr. Douglas says. "The Planet Amazing mission is to improve the health and well-being of families everywhere. To fulfill this goal, we must protect the environments in which we work and live. A healthy planet and a healthy community go hand in hand."
The storefront will have more products added in the future, and for now features these Planet Amazing products:

Bitterlicks Non-toxic Horse Cribbing Solution
Ant Shredder Non-toxic Ant Control
WhiteFlyGuard Non-toxic White Fly Killer
Roach Shredder Non-toxicRoach Killer
Aphid Guard
Bed Bug Shredder
Flea Shredder
Fire Ant Shredder
Chinch Guard
GroutRenu Non-toxic Grout Cleaner
Commercial Tile & Grout Cleaning Brush
Urine Secret Cat Odor Remover
OxyStrip Rust Remover
For more information or to purchase products, visit the Planet Amazing Storefront at Amazon.com.
About Planet Amazing
Planet Amazing creates family-friendly and environmentally safe products. Planet Amazing sets high standards for their operating companies in the area of environmental responsibility — striving for performance that does not merely comply with regulations but reduces the environmental impact. They commit to take care of our planet and preserve its beauty, resources and strength for future generations. Planet Amazing embraces research and science - bringing innovative ideas, products and services to advance the lives and well-being of people. Employees of the Planet Amazing Family of Companies work with its partners in order to touch the lives of people every day, throughout the world.
###