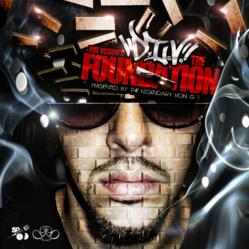 Miami, FL (PRWEB) January 29, 2012
Hip hop artist D.I.V. recently released his mixtape "The Vision's The Foundation." Coast 2 Coast Mixtapes presents the project, which is hosted by The Legendary Ron G. It is now available for free download. "The Vision's The Foundation" features D.I.V. on tracks with guest artist appearances from Nuf Sed, Hop Da Great, and The Bad Guy. Production credits include Joey C, J The Chef, Lyr1kz, Ron G, A.O., and The Alchemist.
Rapper/engineer D.I.V., which is an acronym for Destiny In Vision, is greatness in the making. Referred to by many as D.I., he possesses a unique style and sound, a New York minute work ethic, and an approach which is unorthodox in contrast to the current state of hip hop. Born in Yonkers, NY, growing up throughout Westchester, and currently residing in Yonkers, The Italian/Irish lyricist has a sharpened craft and unparalleled outlook. His sound is powerful, smooth and deep while still being delivered in a fresh format. D.I.V. got started in music as a youngster playing his grandmother's piano. He began rapping and recording at 14, and started seriously pursuing music 5 years ago. He lists some ecclectic influences as Bob Marley, Barry White, Pink Floyd, Issac Hayes, Eric B & Rakim, The Lox, Nas, Tupac, and Wu Tang.
With the exception of a few tracks, "The Vision's The Foundation" is comprised of all-original music, and will serve as the foundation to the music D.I.V. will do in the future. He has already released a video for "Never B Alone," and will soon be releasing videos for "The Foundation" and "U C Me." His current focus is performing and promoting this project, as well as working on a mixtape exclusively produced by his cousin, Joey C. Together, the two form the duo The Foundation.
"The Vision's The Foundation" is available for free streaming and download at http://coast2coastmixtapes.com/mixtapes/mixtapedetail.aspx/d-i-v-the-visions-the-foundation-presented-by-the-legendary-ron-g
###