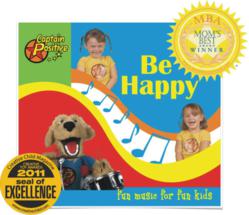 I absolutely love the entire concept of Positively Kids! I think it's a great way to uplift children from a very young age! We all need to embrace this positive outlook!"
Lisa Druxman Founder of Stroller Strides
San Diego, CA (PRWEB) January 30, 2012
On February 23, 2012 from 4pm – 6pm, Positively Kids, a company devoted to creating entertaining and educational tools that promote positivity in children, and The Mom's Guide To San Diego, an inclusive online guide of the best family friendly businesses and events for San Diego parents, will be co-sponsoring a fun-filled afternoon at the popular play-place, Kid Ventures at Pacific Beach in San Diego.
At this interactive event, kids will be able to play at Kid Ventures and during the 30 minute break-out sessions they'll get to learn the popular "Happy Boogie," play "Positively Kids BINGO," dance to the rest of the infectious music from the new "Captain Positive: Be Happy" CD – and, at the very end, kids will even get an opportunity to meet and take pictures with Captain Positive.
Plus, the first 25 pre-registered moms who mention the secret code word "Captain Positive" upon arrival will receive a fabulous swag bag with more than $50 worth of gifts and coupons, a 30 minute spa treatment gift certificate furnished by Firefly Wellness, and a complimentary cafe beverage compliments of the Mom's Guide. Must RSVP to sandiegomom(at)hotmail(dot)com to pre-register.
Local vendors participating in swag bags are: Sign4Baby, Partners Urgent Care, Happy Family, SD Mom's Night Out, Next Generation Yoga, Kids for Peace, Firefly Wellness, Clean Well, and more.......
'Meet Captain Positive At Kid Ventures' Event Info
Where: Kid Ventures at Pacific Beach, 5066 Santa Fe Street, San Diego, CA 92109
When: Thursday, February 23, 2012, 4-6 pm
Details: During Kid Ventures' 30 minute break-out sessions, kids will get to:

Play "I Choose To Be Happy Bingo"
Learn the popular "Happy Boogie" Dance
Meet and take photos Captain Positive, the star of Positively Kids
Listen to the music of the newly released "Captain Positive: Be Happy" CD
And more!
Cost: $12 for the first child and $8 for sibling
Kid Ventures is open from 9:30am-7:00pm
The new CD "Captain Positive: Be Happy" will also be available for $13.99
About Kid Ventures:
With two locations, one in Pacific Beach and another in Eastlake, Kid Ventures represents the next generation of boutique-style indoor family play centers. Their warm and inviting facility offers the perfect setting for children to explore and expand their imagination and talent as parents delight in the experience. Kids play in the facility's fun and stimulating indoor play village, which is designed to stretch their creative muscles in a healthy and safe way.
About Positively Kids and the "Captain Positive: Be Happy" CD:
Founded in 2010 in San Diego by mom Stacey Crumrine, Positively Kids brings parents, caregivers, and educators many tools that they can give to the precious little minds for maximum positive impact. Positively Kids weaves its "Captain Positive" character, the super-hero of positive thinking, through CDs and DVDs like "Captain Positive: Be Happy", as a means of preparing kids for the years and challenges ahead and arming them with a positive attitude to carry throughout their lives. The "Captain Positive: Be Happy" products use a fun eclectic musical collection that parents and kids both love, all while delivering positive messages and teaching the power that positive thinking can have throughout their lives.
About The Mom's Guide To San Diego:
The Mom's Guide To San Diego and its website momsguidetosandiego.com were created by San Diego mom Jennifer Humora. Realizing there were no true comprehensive guides to family-oriented businesses in San Diego, Humora created the Mom's Guide to be an inclusive, true resource for parents and a place where local businesses could promote themselves to the mommy market. Both the print copy of The Mom's Guide and its online companion provide everything from deals and steals to coupons and category listings.
Firefly Wellness is providing a 30 minute gift certificate for the first 25 moms that mention the code word "Captain Positive". Karen Hutchins, the owner of Firefly Wellness, has a mission to help people's skin look great, body feel awesome, and mind de-stress.
To learn more about Positively Kids and their new "Captain Positive: Be Happy" CD, visit: http://www.positivelykids.com
To learn more about Kid Ventures, visit http://www.indoorplaysandiego.com
To learn more about The Mom's Guide To San Diego, visit: http://www.momsguidetosandiego.com
Firefly Wellness is on Facebook at at http://www.Facebook.com/FireflyWellness
# # #