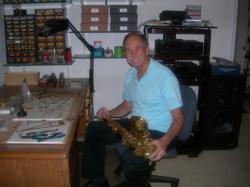 I'm always happy to answer inquiries.
Altadena, CA (PRWEB) January 31, 2012
Michael Irwin has been doing woodwind repairs for over forty years! Starting with Whitney's Band Instruments in San Francisco in 1971, Michael left to start Marin Woodwinds in 1972. Michael now lives in Southern California, and operates The Woodwind Shop in Altadena. Over the years he's worked on thousands of flutes, saxes, clarinets, oboes and bassoons (and even an octavin!). Michael feels it's important that technology doesn't get lost, so he's passing on what he's learned in a series of articles that will be posted to his website (http://www.woodwindshop.com). First in the series is "The Art of Fitting a Sax Neck".
Michael says, "When I first started out I was very fortunate to have Bob Gilchrist take me under his wing and show me the correct way to approach the art of repair. Bob was a true genius, and developed flute head joint fitting and saxophone neck fitting to it's highest form. Rather than a mechanical process, he approached repairs as a frame of mind. Now it's time for me to pass that philosophy and knowledge on to others."
The step-by-step "how to" article on fitting a saxophone neck combines a balance of technical procedure, theory and examples. While this might sound a little dry and boring, Michael makes the information accessible to both players and technicians. Everyone will come away with a new understanding of how woodwind instruments work, and what to look and listen for to know if an instrument is playing at its optimum. The complete series, with the overall title of "The Art of Woodwind Repair", will cover such topics as "The Art of Installing a Flute Pad" and "The Art of Working on a Clarinet Bore". Subjects will cover the full range of woodwinds and the entire process of repair from start to finish.
Michael says, "I love the internet! It makes information available to players and technicians in every corner of the globe. Over the years I've posted articles here and there, and was once surprised to see one of my posts copied onto someone's website. The weird thing was, the entire website (except my article) was in French! A short time ago I got a request for help from a player in Brazil! I'm always happy to respond to inquiries, and hope my answers will provide real solutions. I can be reached at michael(at)woodwindshop(dot)com."
###