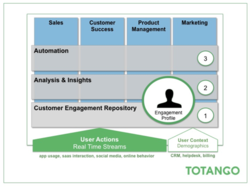 "The number of tickets submitted during the trial increased by 100% and the number of people invited to participate in the trial by 35%". Zack Urlocker, COO for Zendesk
(PRWEB) January 31, 2012
Totango, provider of an online customer engagement platform for cloud businesses, announced today the availability of its paid service and shared statistics from the beta period, which concluded this month. To date, Totango has analyzed and optimized the customer engagement with more than one million prospects and customers leading to increases in sales performance and higher rates of customer success for its SaaS (software-as-a-service) customers.
Zendesk, the leading provider of cloud based customer service desk software, was able to increase trial engagement and trial to paid conversion using Totango insights: "The number of tickets submitted during the trial increased by 100% and the number of people invited to participate in the trial by 35%", said Zack Urlocker, COO for Zendesk in this video. "If you are a SaaS business you should use Totango because there is no way, short of spending hundreds of hours of programming, that you can get this level of introspection any other way."
More lessons learnt from the Totango aggregate customer analysis:
● Free trial users who are still active during day 3 of their trial were 4 times more likely to convert into paying users than the average customer. SaaS sales teams could use this insight by focusing their time and close more deals.
● Active trial users who were contacted by a sales rep were 70% more likely to buy the paid service than those who weren't. This proves that timely and contextual engagement with prospects results in more sales.
● A full half of paid SaaS customers log in less than once a month or do not use their paid service at all. Another 19% is using their paid service less than once a week. Only 14% of paid customers use their service weekly and only 17% use it daily.
● Most cancellations were preceded by a period of non-use. SaaS customer success teams could use this insight to configure alerts for inactive users and to pro actively reach out to these customers and offer help.
"The rapid adoption of Totango's SaaS customer activity monitoring capabilities is a reflection of the growing need for companies of all types, but especially those which rely on cloud-based services, to continuously measure and analyze their effectiveness to ensure customer satisfaction," according to Jeffrey M. Kaplan, the Managing Director of THINKstrategies, Inc. and Founder of the Cloud Computing Showplace.
Totango offers a customer engagement repository combining real time streams from service usage plus information from other sources such as CRM and social networks. "Totango for Sales" and "Totango for Customer Success" add a decision engine to optimize and automate sales and customer success actions based on customer specific insights. Totango's introductory enterprise pricing announced today starts at $600 a month. A special program is available for early-stage startups.
"We are excited to use the lessons from analyzing the sales engagement with over one million businesses to increase revenues for all SaaS companies. For a company with $10 million in annual recurring revenues, we might deliver well over $1 million in annual value increasing sales and renewals", said Guy Nirpaz, founder and CEO of Totango.
SaaS or online subscription companies interested in trying Totango can sign up today for a free trial at http://www.totango.com.
Online Resources
● Watch Zendesk talk about their success with Totango
● See a short video about the Totango service
● Try Totango for free
● Follow @totango on Twitter
About Totango
Totango (http://www.totango.com/) provides Software-as-a-Service (SaaS) companies the unique ability to understand their customers in real-time. By monitoring customer engagement as it happens and by triggering the best next sales and marketing actions, Totango increases new sales, expansions and renewals. Totango is used by leading SaaS companies including Zendesk, CloudBees, Pipedrive, Conductor, Logitude, Jajah, Harvest and SohoOS. Totango is backed by Gemini Israel Funds and Pitango Venture Capital.
###