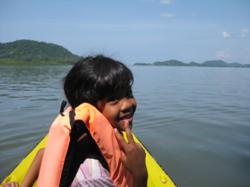 It has given everyone the confidence to speak to the guests, make friends with them and give better service
Chanthaburi, Thailand (PRWEB) January 31, 2012
Faasai Resort and Spa, a resort dedicated to responsible tourism, employs local people and offers a taste of everyday life in Chanthaburi, a beautiful, but little known region in the Southeast of Thailand. The owners, a Thai-New Zealand couple, Bronwen Evans and Surin Laopha, decided they wanted to improve the experience for visitors and so began teaching English language and hospitality to their staff.
Starting in 2011, the resort launched a volunteer program including three volunteers with hospitality experience, Lauren Holz from the United States, Cheryl Treleaven from Canada and Karen Burton from England.
Bronwen said by the time visitors from Europe and Northern America began arriving at Faasai Resort and Spa for the current high season, which began in December and continues through until February, the staff were much more proficient in English.
"We've had fantastic feedback from our guests and we're planning to invest in more teaching over the coming year," she added.
The Chanthaburi region, which is nestled between the mountains and the sea, is rich in local history and has an abundance of exotic local food such as tropical fruit and herbs. As part of the new services, the staff take guests to visit local markets, a fishermen's village, and the resort's own edible forest garden and farm as well as providing them with tours around the district.
"Being introduced to the local area by the local people is a great experience," says Karen. "They are really lovely and such fun. Now they can speak more English, it makes a real difference to staying here."
Faasai office manager Pronprapra Padsuwan said all the staff enjoyed the lessons, even the housemaids, who previously spoke little or no English.
"It has given everyone the confidence to speak to the guests, make friends with them and now we can give better service," she said.
About Faasai Resort & Spa
Faasai Resort and Spa is a 14-room eco-resort at Kung Wiman, Chanthaburi, Thailand, about 200 kilometres southeast of Bangkok. The resort is nestled into a forest-covered hill amidst tropical gardens. It overlooks the mangrove-fringed Kung Kraben Bay and is a ten-minute walk from Kung Wiman beach.
Awards won by Faasai Resort and Spa:
Best Small Hotel Thailand Green Awards 2011
Outstanding service to the environment and nature in the Eastern region – Thailand Boutique Awards 2010
Best Small Hotel Thailand Green Awards 2009.
Runner-up in the budget category in the 2008 Wild Asia Responsible Tourism Awards.
###